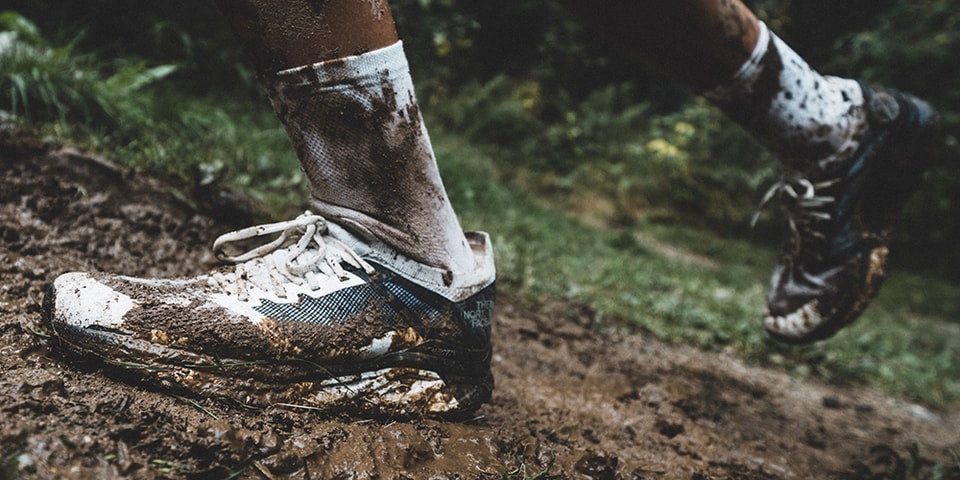 What comes to mind when you think of The North Face? Nuptse jackets, Supreme collaborations, and streetwear hype, probably. But it's more recent reinvention as a credible fashion player overlooks another side to the brand: one that speaks to its heritage in technical innovation and outdoor performance wear.
All of which leads to The North Face VECTIV, a proprietary technology that turns the energy from hiking or trail running into "momentum to propel you forward." By using a patented 3D carbon fiber plate and a rocker midsole, the shoe works with your body's motions to propel you forward, stabilize your foot, and encourage you to run better no matter what the condition. 
Some of the VECTIV shoes also come with further advancements such as FUTURELIGHT, which is a waterproof and breathable membrane that wraps around the foot to protect it — only you barely notice it. 
The shoe and its tech draw from The North Face's Flight Series, its signature trail running line that focuses on fabric and design innovations to support extreme running experiences. Centered around the idea of adding and removing layers, Flight Series is all about breathability, insulation, weather resistance and moisture management, so you never have to worry about being unprepared for what's to come. 
It's not unusual for The North Face to be into hiking — it was founded by two mountaineering and backpacking enthusiasts after all. It means that, in a sea of 'tech' footwear releases that often have little practical value, the brand is an outlier, putting function before form always. VECTIV solves the issues that its customers face first, and then looks to address aesthetics. 
To find out more, HYPEBEAST sat down with The North Face's Vice President of Global Footwear, Jean-Marc Djian, for our latest installment of What The Tech? , digging deeper into what makes VECTIV so utterly special and different from anything else out there.
1 of 4
The North Face/Mathis Dumas
2 of 4
The North Face/Mathis Dumas
3 of 4
The North Face/Mathis Dumas
4 of 4
The North Face/Mathis Dumas
The History
HYPEBEAST:  Why do you think trail running has become so popular?
Jean-Marc Djian: It's interesting: when I became involved in trail running in 2004, there were about 28 people at the start line — it was narrow, people were shouting at each other, and the trail was more for mountain biking. Now it's about going outside, being outdoors, being free, having an activity that is different from road running because you're exploring, going to the next stage, going long distance, having fun every time — that's why it's a huge trend. 
The sport is also becoming more inclusive and more people [regardless of] age, gender, you see more women doing longer distances. Now, it's a true trend all over the world that's recognized everywhere. 
Why are the right shoes important for trail running?
Trail running and hiking are different from other sports — you have to start with the outfit because there's a [different] terrain and a fear that's attached to the sport. You need grip, protection, stability, and you need to manage the weather, the mud, everything is connected to protection and a long run, so the shoe — I call it the piece of equipment — is very important. As is the bag, you're afraid when you go into the unknown.
Hiking and trail running are connected in this way for, let's say, the first people doing trail running [treated it] as hikers, but they started to go faster and faster, [wanting things that are] lighter and lighter. 
Why did The North Face want to create its own trail running shoe?
It comes right from the brand. If you want to start and reset something in a fresh way, you have to start where you start. The North Face stands for radical innovation and curiosity, trying to disrupt the market, so you need to start from there. Also, the athletes were asking crazy things: I want something stable but super light that can last long. It's a very basic thing, what can you create that works? It's called innovation. That's what you have to bring, there are many good brands with good products so you have to bring something innovative or have a strong point of view. 
1 of 2
The North Face
2 of 2
The North Face
The What, Why, and How
All in all, what actually is VECTIV?
VECTIV is a patented technology system that combines with the rocker shape and the plate. Usually, the plate is sandwiched between the midsole, this is totally underfoot of the rocker shape, which also propels you forward in a stable, very effective way. The plate could be TPU for more flexibility, but for racers or even for those who like it because it's trendy, it can be carbon that's super lightweight but super responsive. It was built to be the most efficient while stabilizing the people who run 100-mile races. 
It can be used by everyone. 
So there's something about that shape that is scientifically beneficial and performance-focused?
It's totally about the shape and the position. The shape is 3D and it mimics the protection needed underfoot, and the position of it is directly under the upper. At first, people said we were a little bit crazy — usually, you have EVA or something soft, but it soon proves to feel good and be super comfortable for hiking and trail running. 
What makes this carbon plate different from other brands' pieces?
It's special because the carbon plate is in that 3D shape but it's one piece, too. It's 3D because, in trail running, you need to navigate left, right, up, down, and you need to have carbon's flexibility. It's visually distinctive but in terms of efficiency… We have amazing results. 
What did you have to go through during the testing phase to figure out the right recipe?
What's interesting is the setup for innovation testing. We have a location that's about 600sqm that's a prototyping facility. The local community and athletes come in and test things, so we can move very fast. We had 35 rounds of prototypes — some were totally bad or not working — and some were surprisingly good, so it's been a little bit of vision, a little bit of science, and certifying that prototype: you just need to find it, and commercialize it. 
Are there any other components that contribute to the shoes' running credentials?
The upper is minimalistic. We used a small French brand that uses its own proprietary upper that's called Matryx — it's a very light, mono mesh and Kevlar-reinforced [material] that holds the foot properly, protecting you from rocks and shocks. Other than that, we've designed and created a new rubber compound called Surface CTRL with its main function being [to tackle] wet rocks. It needs to grip on wet rocks and mud, so we worked very hard to make something that lasts, is light, and can grip. 
1 of 3
The North Face
2 of 3
The North Face
3 of 3
The North Face
The Future
Some of the new models feature FUTURELIGHT, too.
Yes that's right, and that's getting bigger for 2021. A lot of people use our shoes to go hiking, and also our boots that are light and protective, and we use FUTURELIGHT in those products. 
FUTURELIGHT is our waterproof and breathable membrane. When you want to protect your feet from weather conditions and to not get wet, that's what we use. It's not stiff, it protects your foot but you don't feel the membrane around your foot. 
Where is The North Face taking its trail footwear to next?
We have other versions with FUTURELIGHT and we're already working on the 2.0 — there are always improvements. Part of our job is to satisfy our climbers and mountaineers… We have other athletes, and we've been testing some mountaineering, climbing, backpacking footwear, so get ready for some hiking stuff. It's all coming from the needs of our top athletes. It's coming soon — I can't tell you when — but we're resetting it.