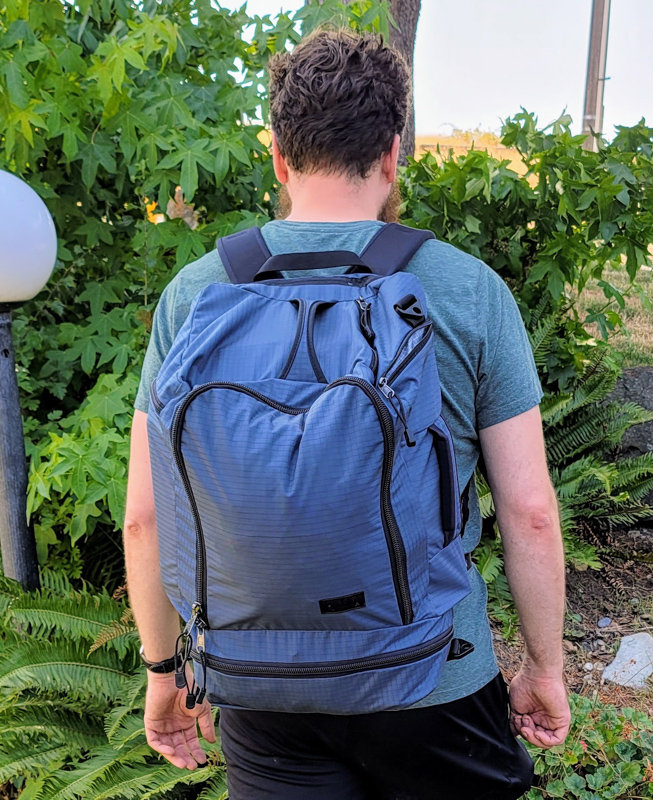 The Gadgeteer is supported by readers like you! If you buy something through links on our site, we may earn an affiliate commission. Thank you! Learn more.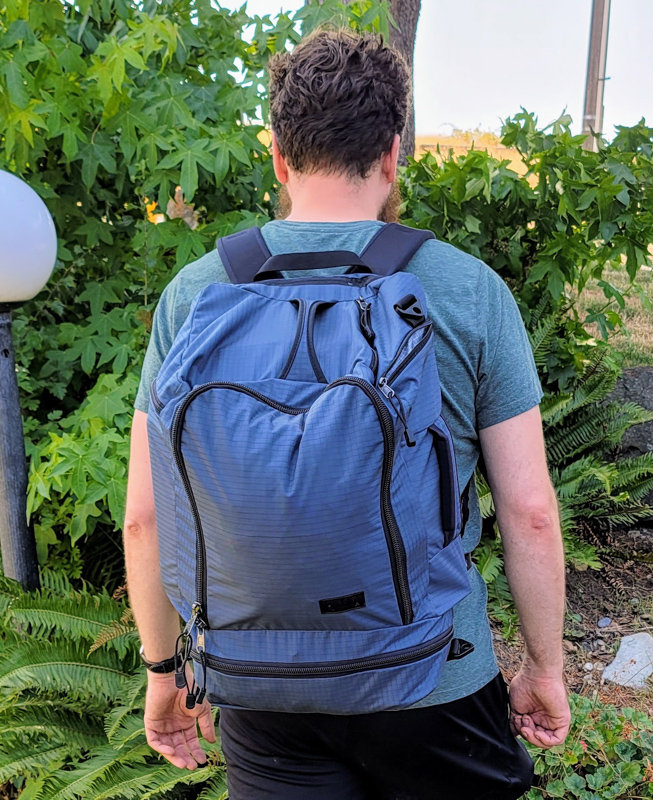 REVIEW – As I prepare to enter my middle-age years, I have done a lot of reflecting lately. One of the trends I have noticed the older I get is to gravitate towards paying more for quality rather than always buying the cheapest functional version of something I need. Case-in-point: I probably used and wore out or broke 4 backpacks during my college and early career days. At an average cost of ~$50, that's $200 of lost money headed to landfills or thrift stores. If I'd been able to get something like the Tom Bihn Techonaut 45 backpack, I'd likely still be using it today and for years to come. The old adage "you get what you pay for" has been repeatedly proven true in my life, but will it be the case with this backpack as well? Luckily I had an unplanned trip in the middle of this review period, so I have some real-world thoughts in addition to the usual somewhat artificial tests I have to conduct when reviewing something like this.
What is it?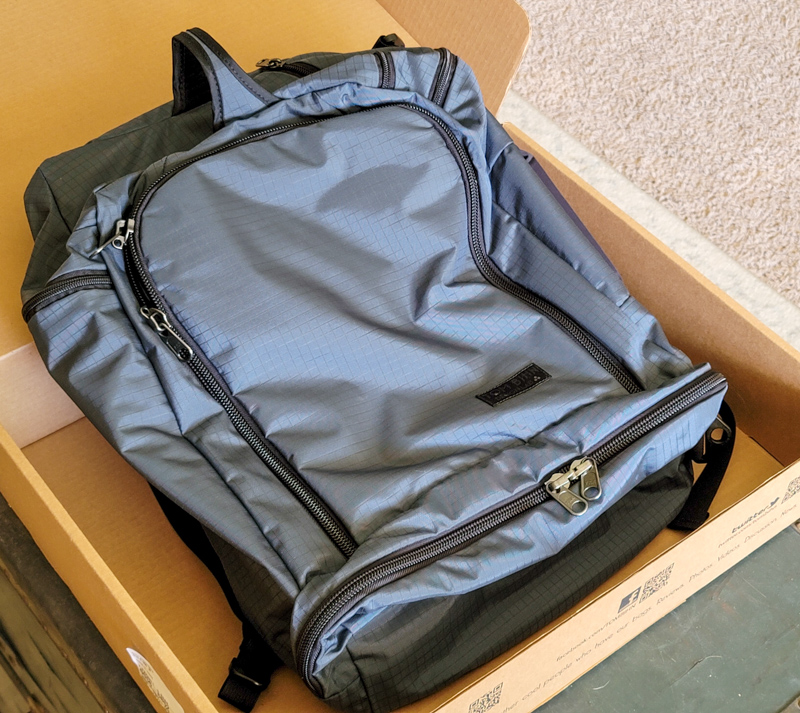 The Tom Bihn Techonaut 45 backpack is a lightweight premium quality travel backpack. It includes a padded laptop storage compartment, large easy-open main compartment, and several other pockets for organization and transport. It also has several carry modes including the traditional backpack style mode.
What's in the box?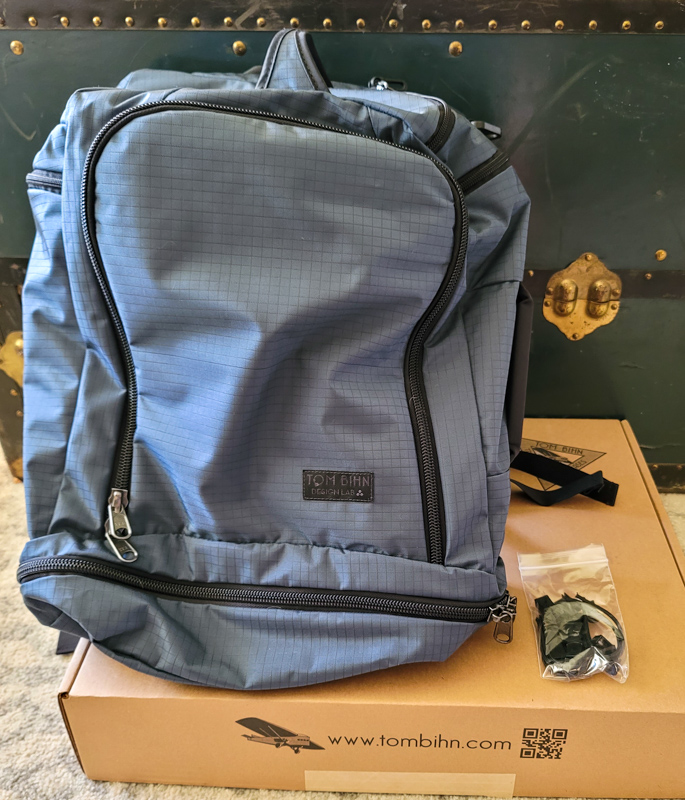 Tom Bihn Techonaut 45 backpack
8-Inch Black Webbing Snaphook/Snaphook Key Strap
8-pack of Cord Zipper Pulls with Plastic Ends
Removable Sternum Strap
Removable Waist Strap
2 x Removable Internal Tie-Down Strap
Hardware specs
Exterior Materials: bluesign® and OEKO-TEX® certified Ultralight 400d Halcyon/420d nylon ripstop — or — bluesign® certified 525 denier High-Tenacity 2×2 Ballistic nylon — or — 1000 denier Cordura Nylon — or — U.S. high tenacity 1050 denier ballistic nylon
Interior Materials: bluesign® and OEKO-TEX® certified 200 denier Halcyon/nylon ripstop — or — bluesign® certified 210 denier High-Tenacity 2×2 Ballistic nylon
Laptop Compartment materials: Lightweight ripstop nylon
Zippers: 2x #10 YKK Raquet-Coil Water-Repellent Zipper with lockable metal sliders 4x #8 Raquet-Coil Water-Repellent zippers with metal sliders 1x #5 Coil zipper with plastic slider 1x #5 Vislon zipper with plastic slider
Upper Back Materials: Pure Finish Nylon Diamond Mesh (Closed-cell foam inside)
Lower Back Materials: bluesign® certified 210 denier High-Tenacity 2×2 nylon (Closed-cell foam inside)
Straps Materials: Edgeless EV50 1/2" / 12mm shoulder straps (EVAZOTE® OEKO-TEX® foam)
Components Materials: Duraflex®, Nexus, and Woojin buckles and related components
Weight: 400d Halcyon/420d nylon ripstop exterior: 2 lb 5.6 oz / 1065 grams 525d Ballistic: 2 lbs 14 oz / 1305 grams 1050d Ballistic: 3 lbs / 1360 grams 1000d Cordura®: 2 lbs 14.4 oz / 1315 grams
Dimensions: 21.9″ (w) x 14″ (h) x 9.1″ (d) / 555 (w) x 355 (h) x 230 (d) mm
Volume: 2745 cubic inches / 45 liters (ASTM Standard Measure)
Straps: .5″ / 13 mm padded and contoured backpack straps with .75″ / 20 mm removable sternum strap with removable 1″ / 25 mm waist strap included
Laptop Compartment: .5″ / 13 mm padded and contoured backpack straps with .75″ / 20 mm removable sternum strap with removable 1″ / 25 mm waist strap included
Design and features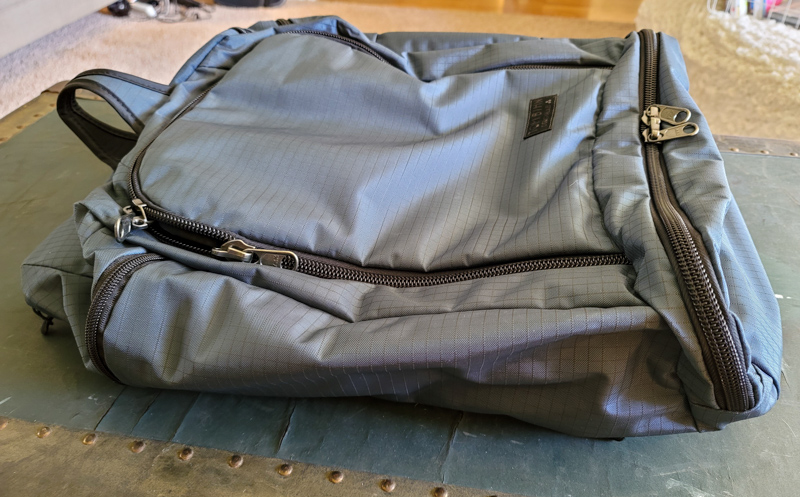 The Tom Bihn Techonaut 45 backpack comes in a variety of material options and colors (sourced from all over the world and designed/assembled/sewn in Seattle). I went for the "Night Walk 400 Halcyon/Northwest Sky 200 Halcyon", which among the lightest-weight material that still offers good durability and water resistance. Pictured on this side is a quite large side pocket that was able to hold my insulated 40 ounce water bottle (it was a bit tight, but not annoyingly so).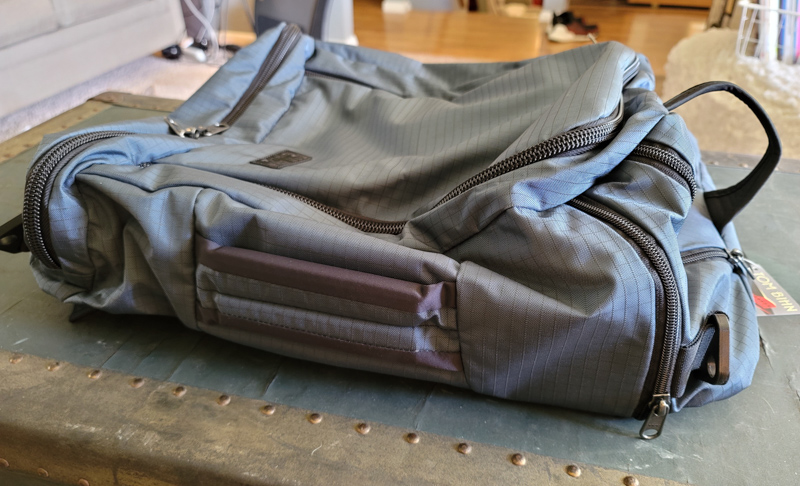 On the other side, we have the "edgeless" padded side handle and a smaller side pocket. This side handle was super comfortable, by far the softest one-hand carry option I've ever used. The side pocket is a good size and shape for a phone and passport, or power supplies and cables for phones and laptops.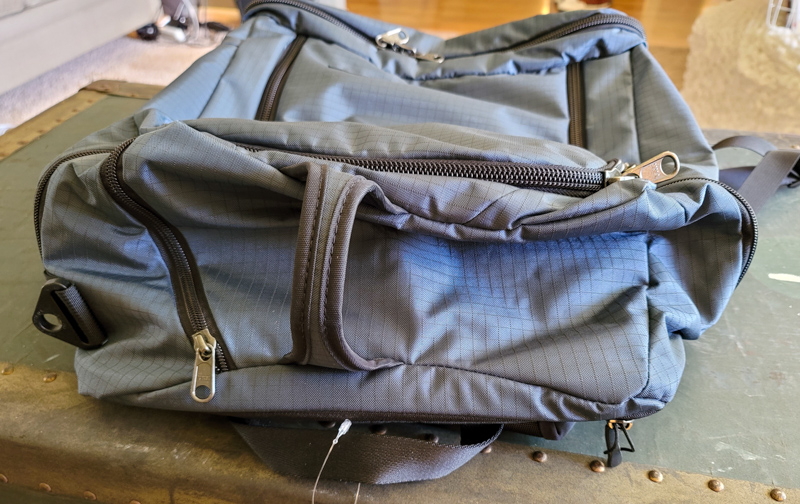 The top features pair of handles: one a simple nylon strap to pull out from under an airline seat or hang on a hanger, the other larger one looks more durable for carrying from the top if needed.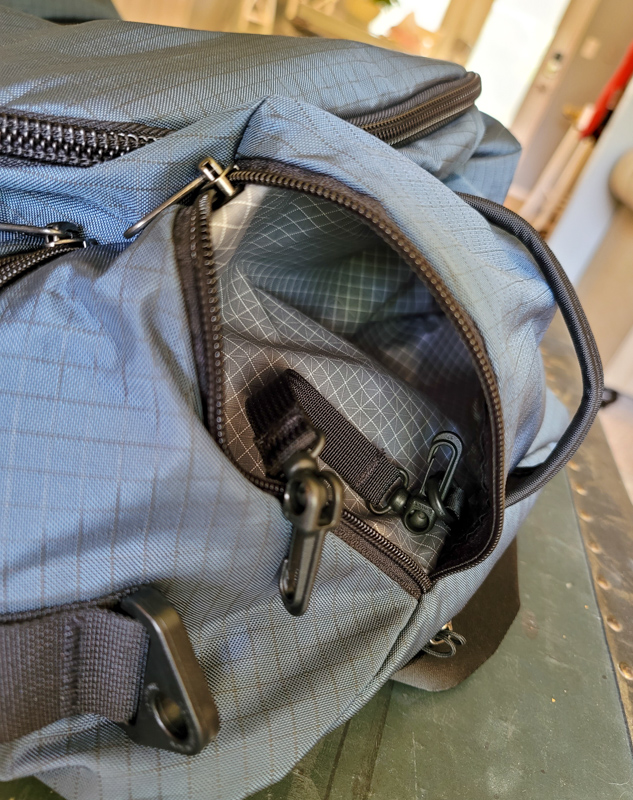 On the top is also a small quick-access pocket that has the 8 inch key strap pre-installed, but this is removable if not needed.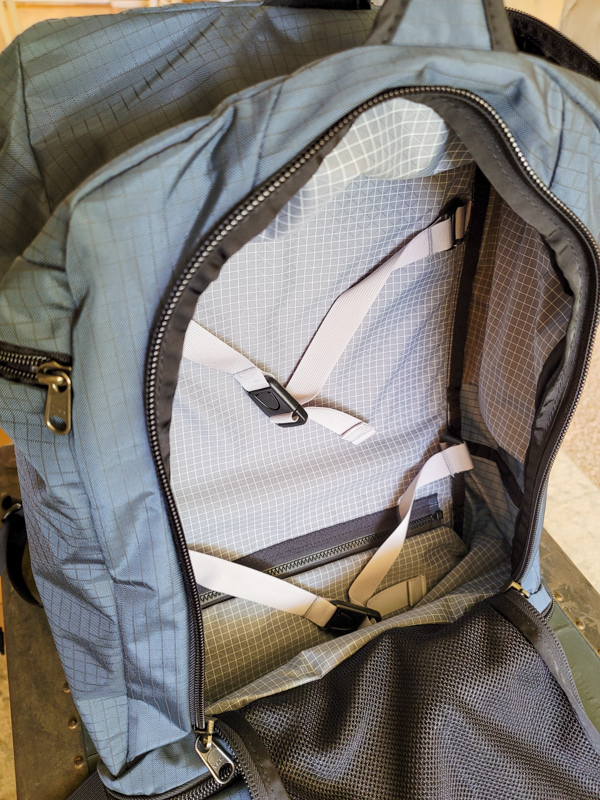 Moving on to the main compartment, you can see the two removable tie-down straps (for holding folded clothes in place so they don't wrinkle as much). Near the bottom is a zipper that can access a small compartment – good for cash or items that you want extra safe and buried. Inside the flap is a zippered mesh compartment as well.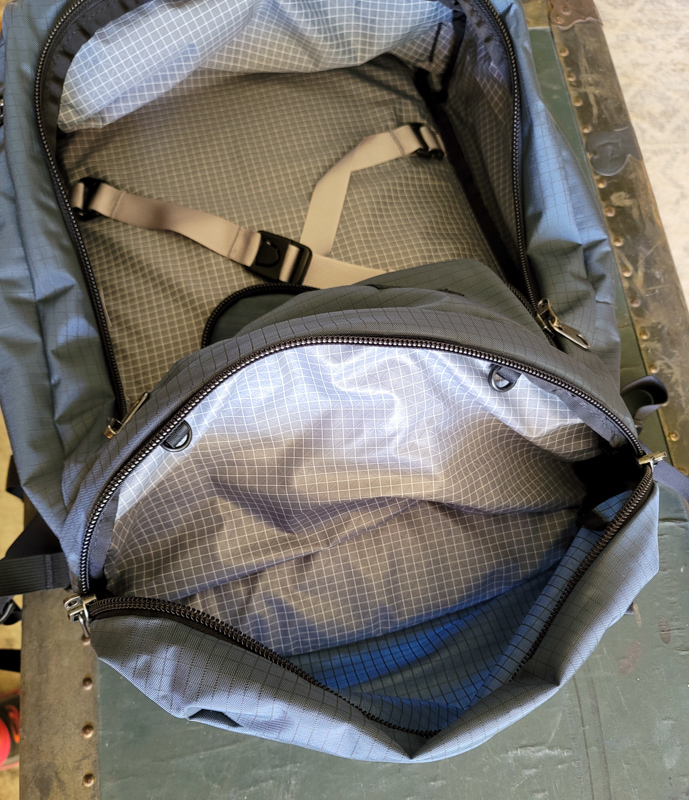 Below the main compartment is a fairly large bottom compartment with it's own zipper. This is sized to hold a pair of shoes or similar items.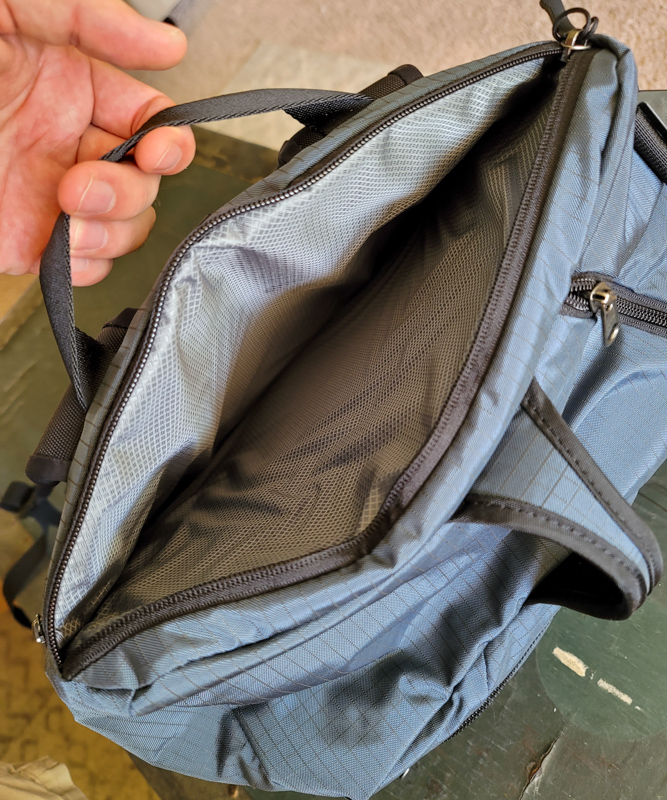 The laptop compartment is padded and opens wide for easy access. This easily fits a 15″ Macbook or Windows laptop, and I think you could even squeeze in a thicker 17-inch slim gaming laptop without too much trouble, there's space to spare with my 15″ not-too-thick gaming Asus G15 laptop. There is not a separate tablet sleeve in this compartment like some other laptop travel bags, so you'll either have to double one up with the laptop here or store it in the main compartment if you travel with a tablet as well.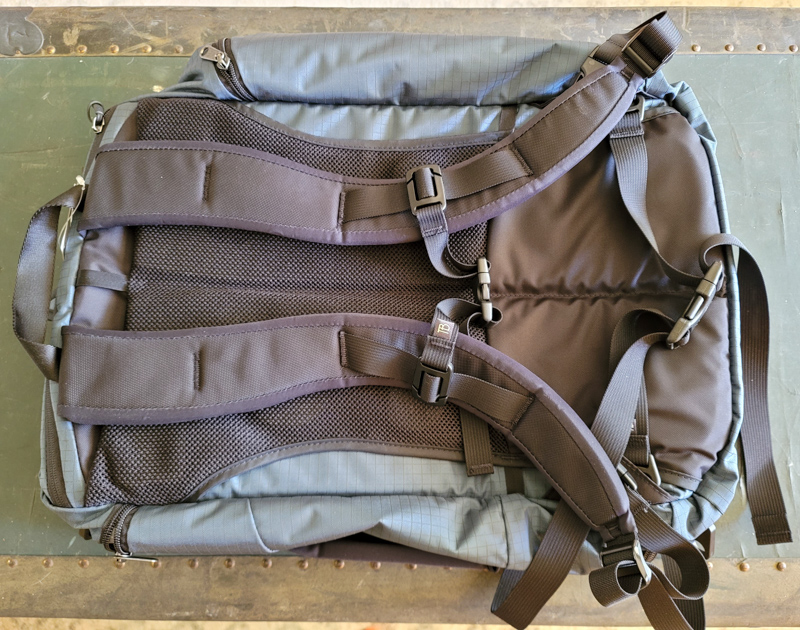 Here's the backside of the bag, with the sternum and waist straps installed (mine came preinstalled but they can both be removed with pretty much no hardware left behind). The mesh upper back area allows for decent breathability, and it's sized so you can even slide it over most roller-bag handles.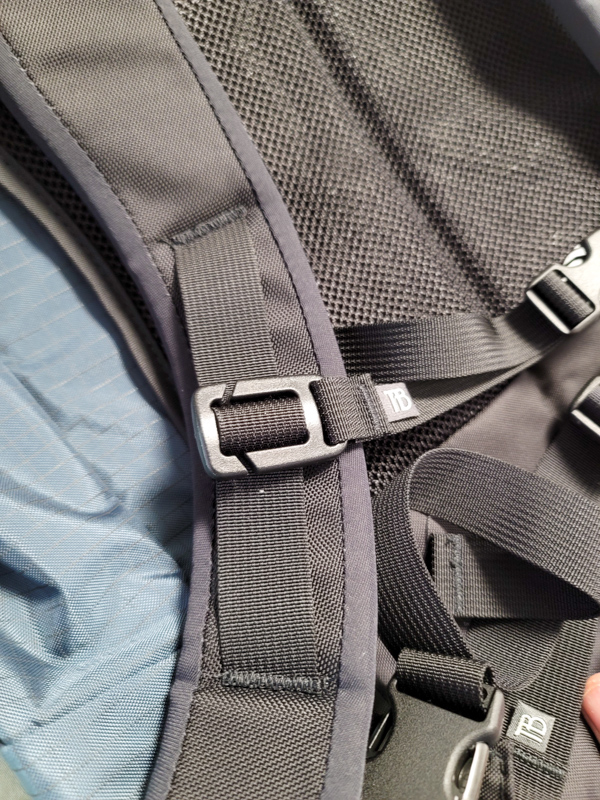 The shoulder straps were supremely comfortable. I haven't used another pack with better feeling straps in my life. The sternum straps were nice when I had the bag loaded up to help distribute the load a bit better. I didn't find the waist strap to be needed, but if you were carrying a lot of weight it could be helpful to take some strain off your upper body (and there's even a more-padded waist strap you can buy if this is a need for you).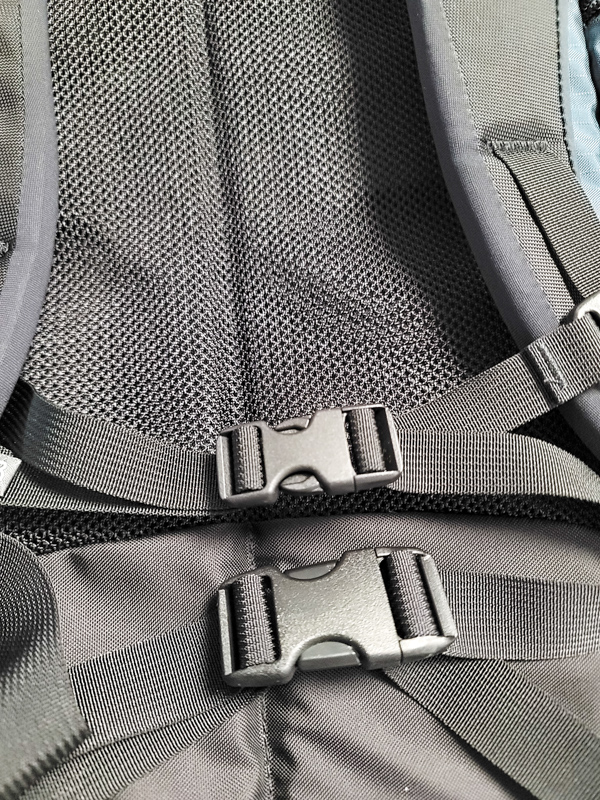 The buckles on both straps are of the best quality plastic, they feel built to last a lifetime and were easy to buckle and unbuckle. The shoulder straps and sternum/waist straps are all adjustable and hold their adjusted position well.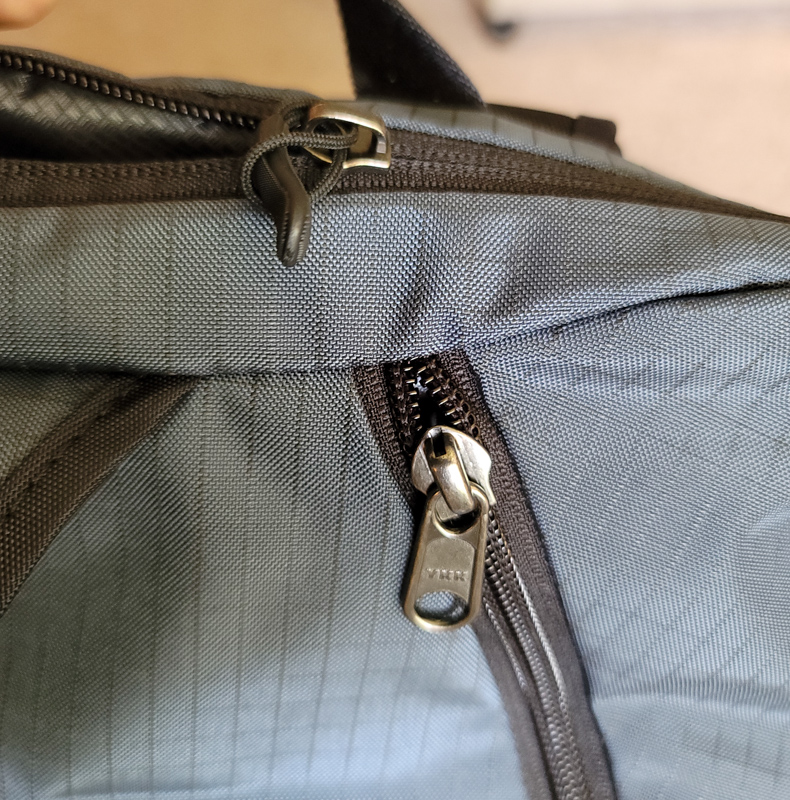 The YKK metal zippers are some of the best I've used. I had zero issues with them jamming, the bag material doesn't seem like it would ever get stuck in the zipper, and all of the external zippers are "Raquet-Coil Water-Repellent", which is nice. With the fabric I chose, I wouldn't want to risk a heavy rainfall for long, but for light drizzle or short runs through rain I wouldn't be too worried about water ingress with this bag.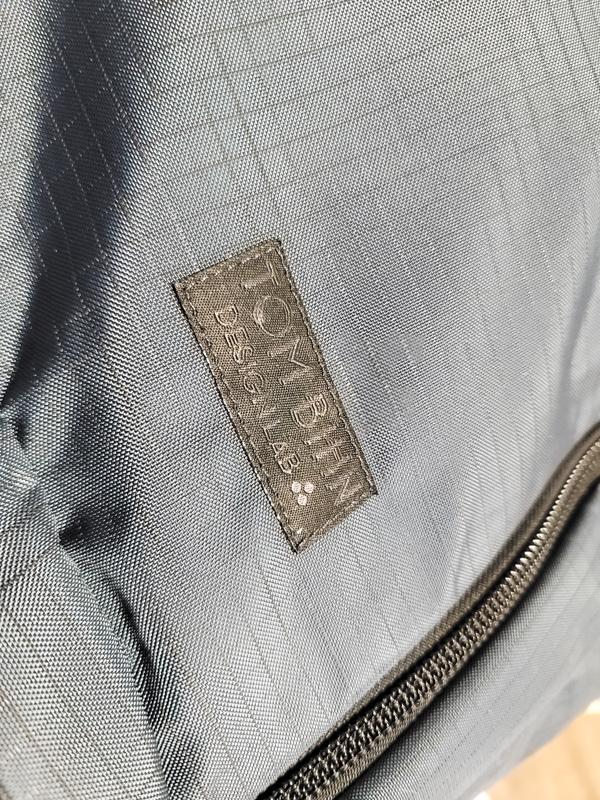 This shot shows the Tom Bihn label and the texture of the fabric. This label apparently changes when their bags leave early production and mature to full production, so if you end up picking up this bag it might look different.
Installation and setup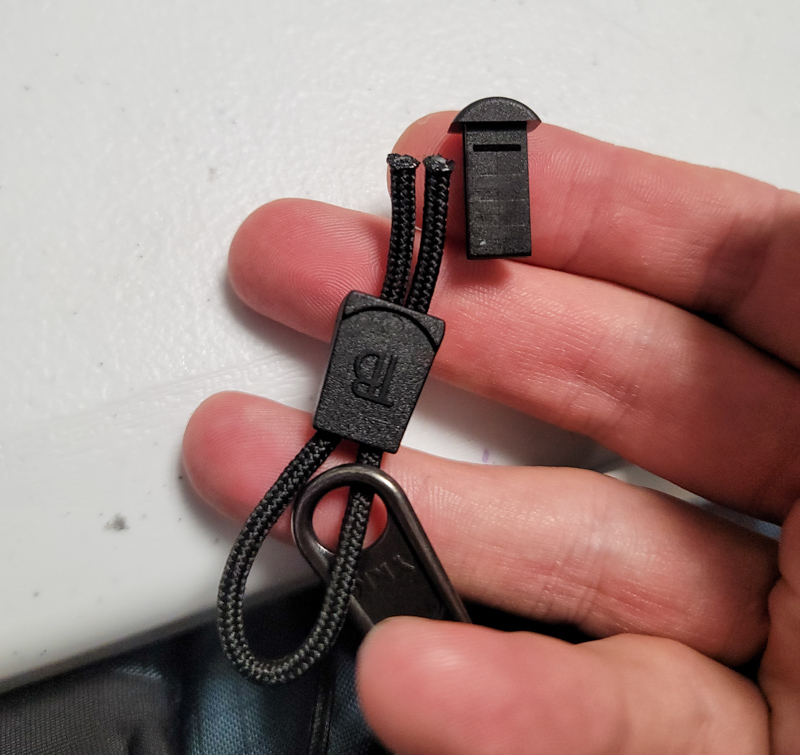 There's really no installation or setup needed with the Tom Bihn Techonaut 45 backpack. You can add the included zipper pulls if desired, you simply loop the cord through the metal zipper pull, then through the TB piece, and push the ends into the end cap, then pull the TB piece over the end cap.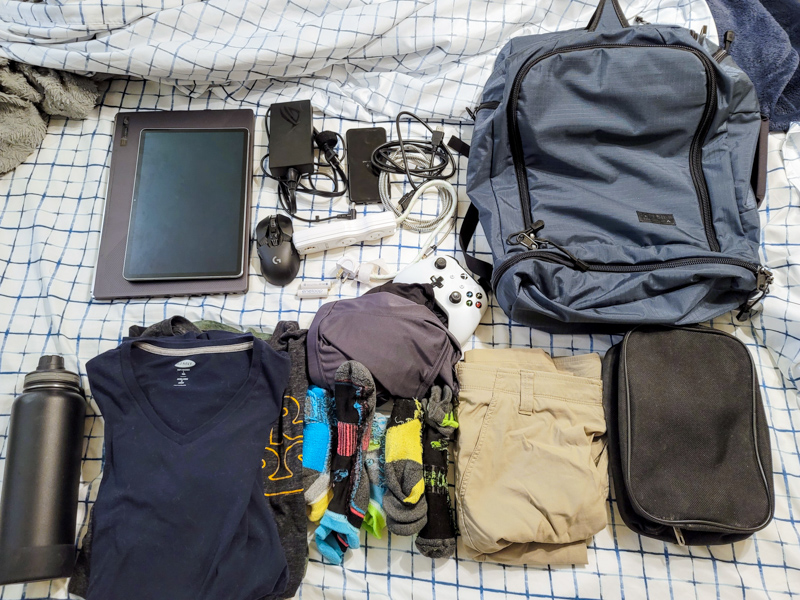 I had a surprise trip pop up in the middle of the review period, which provided the perfect opportunity to get real-world experience with it, including air travel. I packed clothes and work/play electronics for 4 days, and had plenty of room to spare once fully packed.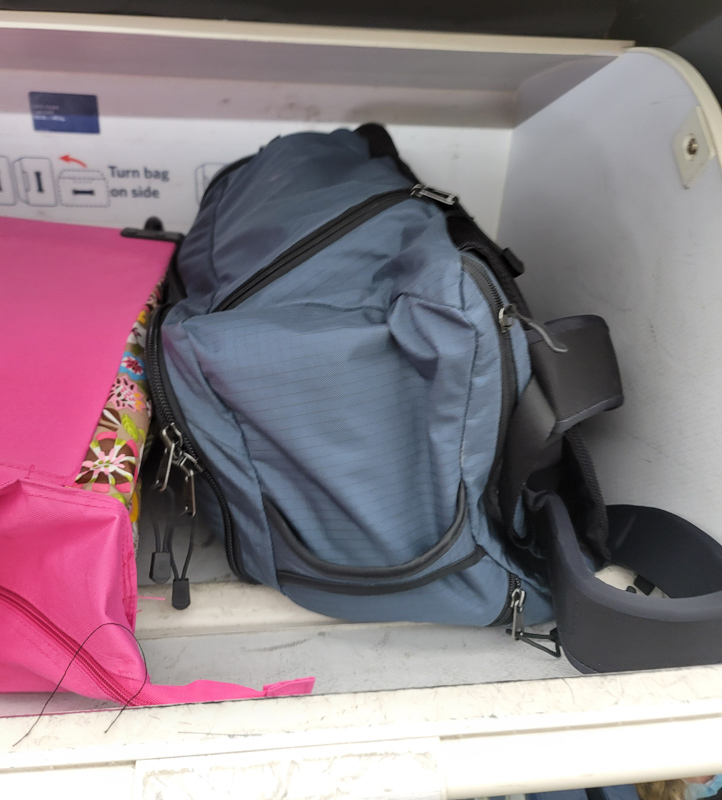 The bag was the easiest one yet that I've taken through airports and public transit. I could squeeze it under the airline seat in front of me, but opted for the overhead bin so my long legs and huge feet could have more room. The top and side handles made it really easy to get in and out of the bins, and the front-load main compartment let the TSA quickly check out my hot sauce bottle to make sure it wasn't a national security threat. With my last bag (which is all top-loading except for small side and front compartments) this would have required me to remove everything out of the main compartment to get to the tiny hot sauce bottle that I was bringing home.
What I like
Very lightweight
Seems built to last forever
Top and side handles are comfortable and handy
Many color/fabric choices
What I'd change
Tablet storage next to laptop would be nice
At this price point include the optional duffel strap
Final thoughts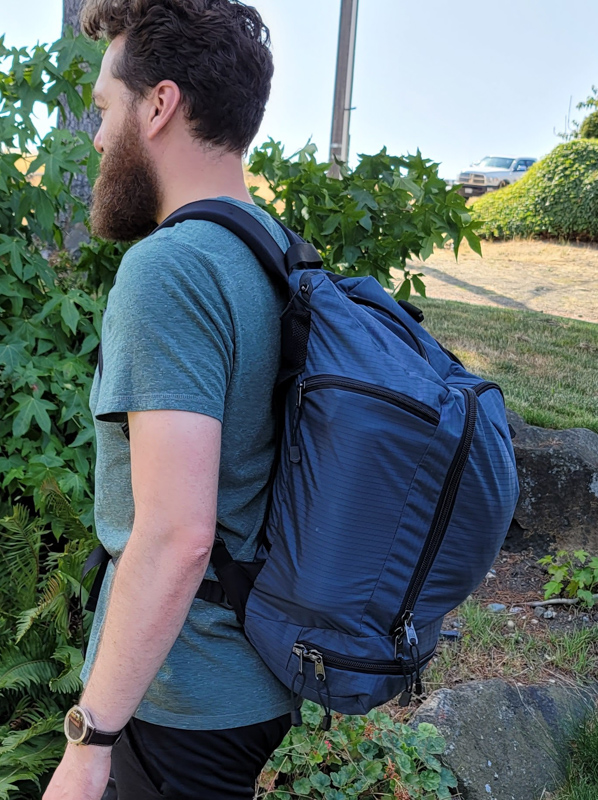 The Tom Bihn Techonaut 45 backpack was pretty much perfect for travel for me. The ample storage, premium materials and build quality, and thoughtful layout made airport transit a breeze. The bag seems like it will last a lifetime, which I would definitely hope for at this price point. Tom Bihn's website advertises 60 day return (as long as there's no visible wear from use) and a lifetime warranty for any manufacturer defects. They've been in business for 30 years so hopefully they'll be around for a long time, and they even offer paid repair through mail-in service at "reasonable charge". I heartily recommend this bag if you're looking for a premium long-lasting and well-built bag (and if the sticker price doesn't turn you away).
Price: $370 Where to buy: Tom Bihn Source: The sample for this review was provided by Tom Bihn
Support The Gadgeteer: The Gadgeteer is supported by readers like you! If you buy something through the links on our site, we may earn a small affiliate commission. Thank you! Learn more.