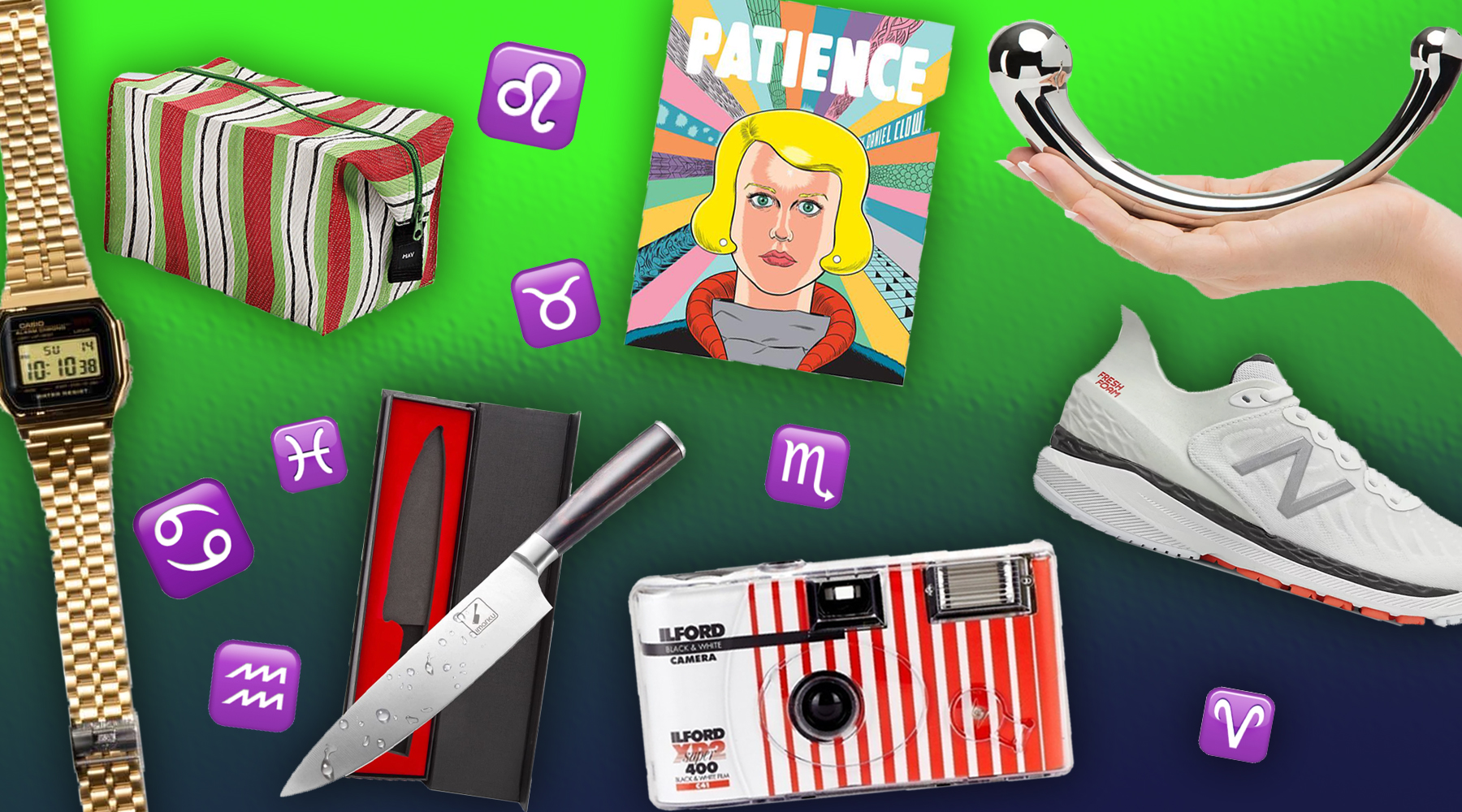 If you're going to dabble in the esoteric, why not go for an area that basically gives you a personality cheat-sheet for everyone you're obsessed with? The zodiac offers a kind of blueprint for understanding what might please a Pisces on their birthday, or make a Capricorn feel even more in control of their destiny. 
If you're new to the zodiac, take the following astral smorgasbord as an easy way to shop for a gift that will feel specific, but not in a weird way; a present that will really slap, because you contain infinite wisdom from the stars and know that Njoy does, in fact, make one of the best prostate toys out there for Sagittariuses. I mean, we're the captains of our own ships or whatever, but you can't tell me that every Leo doesn't want a gold Casio watch, or that a Taurus won't appreciate some high-quality kitchen goods. In fact, here's an idea: Why not put together a group of presents by pulling gifts for your recipient's sun, moon, and rising sign? It'll sweep them off their little cloven feet. 
N00bs and crystal lickers alike, welcome. Pull up that birth chart, and let's whip out the universal magic carpet: thine credit card. 
Aries
Where did Aries go today? Cliff diving? Karaoke? Backpacking? As the resident ram of the zodiac, this sign charges horns first into adventures and Good Times, and often without looking ahead. Grab your Aries a checkered fanny pack from BAGGU that will make it easier for them to go scale the side of whatever mountain sparkles the most, or a bandana print tote bag that says, "My other car is a pioneer wagon."  
BAGGU
Indigo Trippy Checkered Fanny Pack
Neighborhood
Bandana Chopped Tote / E-Luggage
Taurus
Ah, the gourmands of the zodiac. Taurus appreciates the finer things in life, especially when they're drizzled in truffle oil, given a nice garnish, or hail from a Japanese snack marketplace like Bokksu. Here's an idea: Gift them a cake, and then gift them a reeeeeally solid knife for cutting it, such as this eight-inch, German steel blade by Imarku. It's a consistent best-seller on Amazon, where it has a 4.7 rating, and is one of our editors' favorites.
You could also present them with a set of dishwasher-safe steak knives from Laguiole (pronounced La-Yole), France, a region famous for its unparalleled blades with a little bee embellishment on the handle. They've been around since the ancient days of Saint-Jacques-de-Compostelle, during which spiritual pilgrims would carry them across rocky Aveyron. Anyways. They're knives with real clout, construction, and deep history:
French Home
Laguiole Neutral Tones Steak Knives (Set of 4)
Gemini
There's so much to love about Gemini, because they come with about 26 alternate personalities in tow. They're often creative, a little mischievous, and always a great plus one. Give them a disposable or polaroid camera for documenting all of the shenanigans they've so artfully arranged.
Fujifilm
Fujifilm Instax Mini 11 Instant Camera
Ilford
XP2 Super Single Use Camera with 27 Exposures
Cancer
Hiiiiiii. (Cancer here.) Tragically, you can't gift us the gift of crawling back in the womb for mummy's warmth and comfort. But you can get close, thanks to this embryonic sleep sack. Think of it as an alternative to a weighted blanket, which is a rad item if you like to feel gently crushed, but can also end up giving some people (hi again) more anxiety. No, I prefer feeling like an airtight dumpling, sitting pretty on the couch in my body bag. "I can easily get out of it if need be, but it is so much easier than trying to burrito wrap myself by myself," writes one happy customer. "I love the deep pressure around my body, especially my torso and shoulders." 
Hug Sleep
Sleep Pod Classic
If there's anyone who will appreciate a body wash called "Hibernate," it's a Cancer (or Taurus). This blend is hand-crafted by the Black-owned wellness brand Perfect Blue Alchemy, and includes organic Castile soap, jojoba oil, avocado oil, and essential oils like rose, frankincense, lavender, and sandalwood. A hug in a jar.
Perfect Blue Alchemy
Hibernate Nourishing Body Wash
Leo 
The question is, "What time is it?" and the answer is, "Leo." You almost don't have to bother setting up the clock on this classic, shiny Casio. Leo will love it for the chunky, retro gold look, because they're all about the bling. Peep our Leo specific gift guide for this fire sign if you need even more ideas for making them feel like the king of the world. It won't be hard—they already do.   
Leo is also, arguably, the most iconic fire sign, so they'll also dig a personal fire pit for their home, such as this chic little number:
FLIKR Fire
Personal Concrete Fireplace
Virgo
Thank goddess for Virgo, man. This sign swoops in every autumn with all the organizational, rational, back-to-school energy we need to start off fall on the right foot. Reach for well-made items that will help them run a tight ship. So, literally anything from the Danish angels at HAY. But we've got a full list of ideas here when it comes to gifts for Virgos, if you're cruising for more ~*~options~*~.
As the resident sign of Getting Shit Done, your type-A Virgo could also use a little massage and bon voyage energy. This art print hits the perfect note between "breathe" and "book the flight already"; it feels intentional, relaxing, but focused. Just like them.
subliming
Live Immediately Art Print
Libra 
It's currently Libra season, my jabroni, which means we've cooked up an entire Libra guide dedicated to the most ~*~*aesthetic*~*~ of signs filled with flowers, art books, and other treasures that could please this air sign's discerning eyeballs. But let's be real. The thing a Libra loves to look at the most? Themself, through rose colored glasses—and this mirror is as close as one could get.   
Urban Outfitters
Beveled Hub Wall Mirror
Now that it's time to pull out the AC units and pile on the plushy blankets, Libra will also appreciate a duvet cover that looks like it was born with its own highlighter, and this beautiful velvet set is on sale in 13 earthy, gemstone colors.
West Elm
Lush Velvet Tack Stitch Quilt Shams
Scorpio 
Look, Scorpio is hot. No doubt about it. But they also have this one-note reputation as the dark/scary/sexy sign, when they have far more watery and sensitive depths. They're passionate, good listeners, and waaaay more private than Gemini or Aries, which makes them far more trustworthy in my book. In fact, just get them a quality Moleskine notebook. (They never stop keeping score.) They will also be requiring vintage-inspired sunglasses for keeping a low profile that make them look like a Godard extra.
Moleskine
Classic Large Hard Cover Notebook (Ruled/Plain)
Sagittarius 
As the hunter of the zodiac, Sagittarius is a straight-shooter. They go big and go home with the game that they got, capiche? A lot of water signs people misconstrue Sag energy as gregarious, which is fair. But they're just out here being some of the most adventurous, try-anything-once hype men. Of course they're going to love a multi-tasking, G-spot- and prostate-pleasing sex toy.  
NJOY
Pure Wand Stainless Steel Dildo
Sagittarius will also dig a Blade Runner-ready sports bra by MISBHV, a brand based out of Warsaw, Poland, that pulls inspiration from post-Soviet aesthetics and dynamic fabrics. This nylon-blend jersey top is so sleek, it can hit the gym or the clerb.
Misbhv
Black White Active Wear Sports Bra
Capricorn 
Nothing but respect for my president. When Capricorn isn't busy flagellating themselves for Not Being Good Enough, they're looking for ways to further sharpen their tunnel vision for excellence. It's an altruistic, often exhausting path, so get them a pair of running shoes and some of the best deodorant out there for the task. These New Balances come recommended by some of our favorite fitness experts, because they're consistently hard-working—just like someone else we know… 
New Balance
Fresh Foam 860v11
… While this deodorant by Native is one of the best out there, lauded by deo-influencers as one of the best cruelty-free formulas:
Aquarius
If you just made plans with Aquarius to do something, no you didn't, because this sign has a max five-second attention span. Not that it's their fault, mind you; Aquarius is just always trying to do 10 things at once, and has about a million little hobbies that capture their imagination. Find something that'll hold their attention, like a great graphic novel by Daniel Clowes. They've probably already read Ghost World, so give them the comic book legend's great psychedelic sci-fi love story, Patience. It's such a thrilling read that they'll have no choice but to finish it in one sitting. 
Fantagraphics
Patience by Daniel Clowes
If your Aquarius could use some fun, horny times, ball out on the Womanizer Duo. Not only is its vibration motion-sensored, so it only goes harder when you go harder, but it's a one-person-jug-band toy for combined orgasms with an attachment for clitoral stimulation and G-spot-pleasing penetration. Aquarius will have sooo much to explore.
Womanizer
Womanizer Duo Stimulator Vibrator
Pisces
It was either this, or electric nipple clamps, because Pisces is definitely the secret freak of the zodiac that could give Scorpio a run for their money, and has a duality to them that could rival Gemini (hence, their emblem of the two fishes swimming in opposing directions). But, lord, are they powerful water babies with a lot of Big Feels. For that reason, they get to wring out their heart through the creative catharsis of a Shibori tie dye kit.  
Terran Home
Non-Toxic Shibori Indigo Tie Dye Kit
And if anyone could use a humidifying bath of essential oils, it's Pisces. This ceramic porcelain ~vessel~ by Vitruvi is earthy in design (but watery in function), making it the perfect compliment to one of the most iconic water signs.
Vitruvi
Tan Stone Diffuser
Ophiuchus 
LOL. You really thought we'd go there? Foolishness. If you insist, though...
Forum Novelties
Clown Kit
Happy shopping ye astral babes, and good luck with those triple air signs. 
The Rec Room staff independently selected all of the stuff featured in this story.