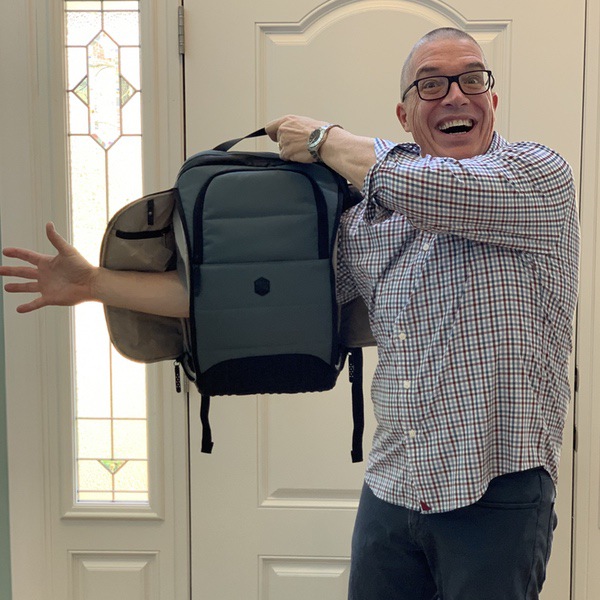 The Gadgeteer is supported by readers like you! If you buy something through links on our site, we may earn an affiliate commission at no cost to you. Thank you! Learn more.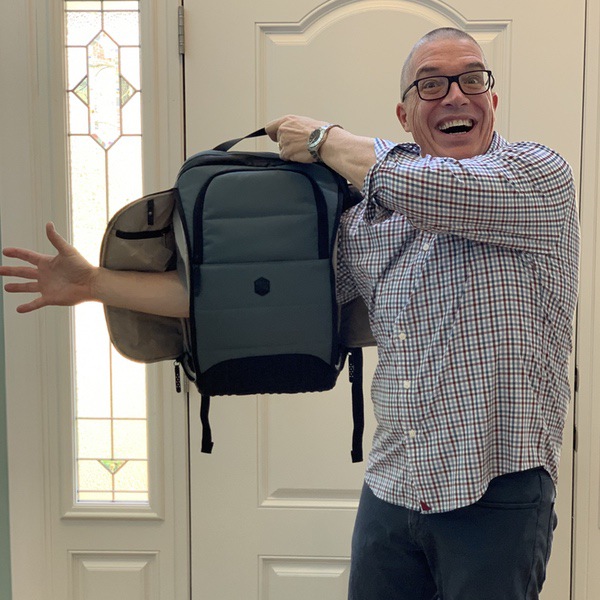 REVIEW – The term "Dux" is Australian slang for "best in class," and that is where STM Goods' new backpack gets it's name. The Dux Backpack is full of tricks and innovations designed to make it a premium business or travel pack. Does the design hold up to the name? Let's find out. To the review!
What is it?
It's a 30-liter backpack designed for maximum protection of your gear flexible interior configurations for… well, whatever you can think of.
What's in the box?
You get the backpack and a bonus gear pouch that can be used for stashing additional items.
Hardware specs
20″ by 13″ by 9.5″
3.92 pounds
EVA foam back panel
Luggage pass-through
30 Liter capacity
Fits up to 17″ laptops, including the 16″ MacBook Pro
Design and features
The 30 liter Dux Backpack is a chunky boy, measuring in at 20″ by 13″ by 9.5″ deep. But the look is anything but awkward. STM Goods did a nice job incorporating clean lines and contemporary styling into an office-ready design. My test sample is a grey/black combo that leans more towards a slate blue to my eye.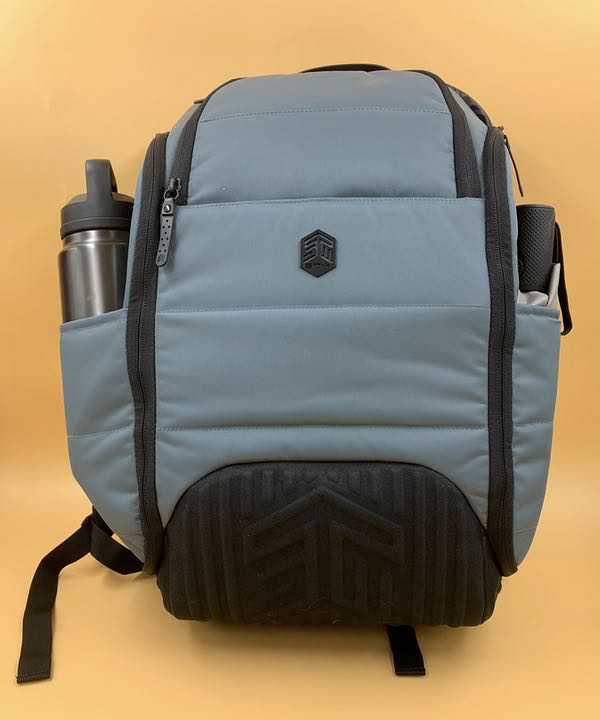 The Dux Backpack is also designed for maximum protection from every angle. Foam-backed panels protect the sides and rear face of the bag. Even the side pockets are padded! All of that rugged padding makes for extraordinary protection for your gear in a structured frame that feels like a hard-sided case (even if it isn't).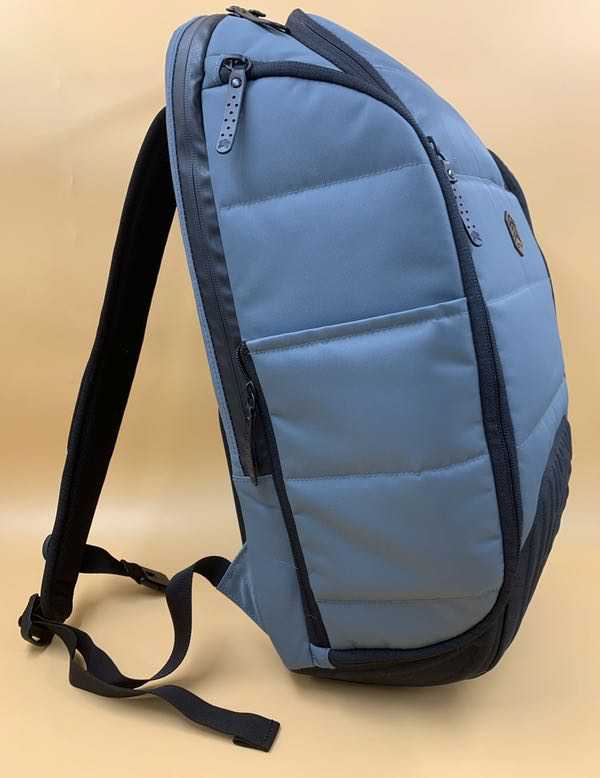 The boot of the bag sports a rigid impact-resistant foam padding to protect your gear from drops and puddles. The back panel used the same materials in thick pads that incorporate channels for breathability. The lower lumbar pads are cleverly built around a separate piece that works as a luggage pass-through for airport maneuvers.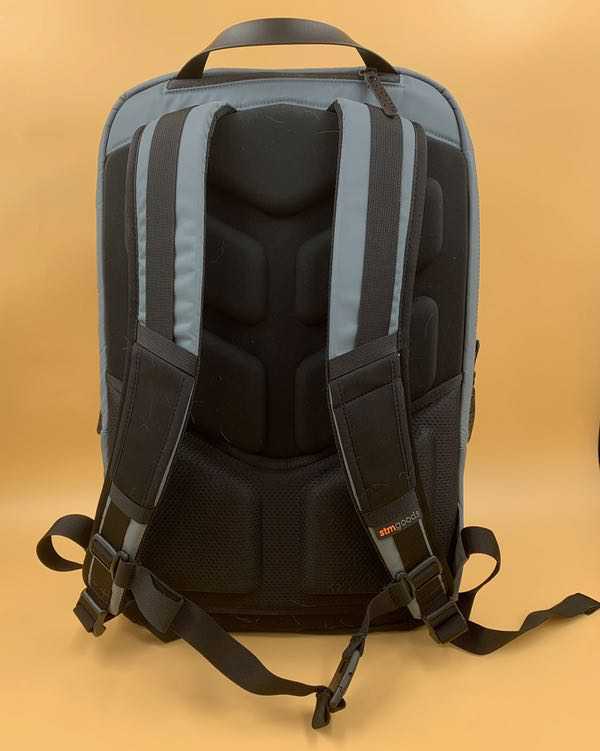 Your laptop/tablet area is a separate compartment behind that back panel, accessible through a double-zip that runs about 2/3 down the sides of the bag for easy access. This area features a laptop sleeve, a tablet sleeve, and an additional space in between that are all padded and lined with a lovely plush fabric to coddle your preciouses.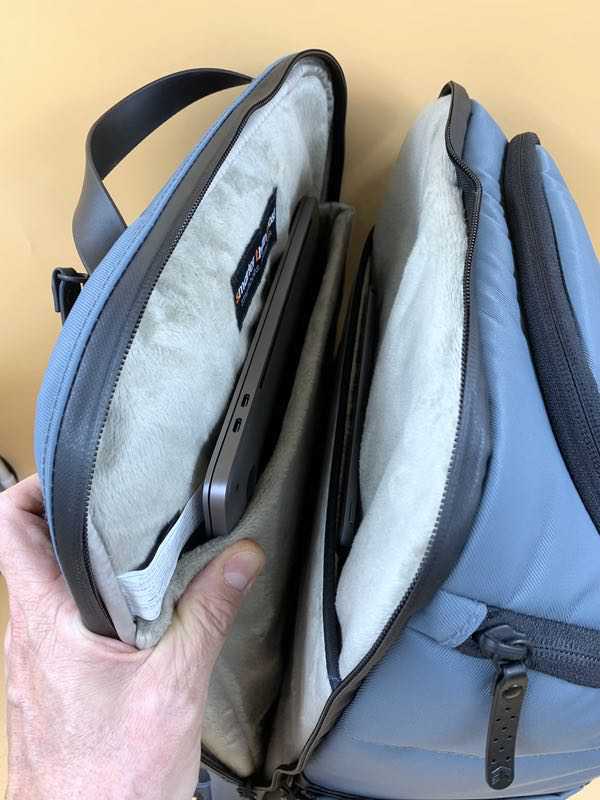 I can fit my 16″ MacBook Pro and 12.9″ iPad Pro (including the Magic Keyboard) in that space with ample room for another device or a notebook. Note that the dedicated laptop tablet sleeves are suspended from the bottom of the bag for impact protection, but that middle space runs right down to the bottom of the bag.
This bag leverages a really interesting access organization system for the main compartment. You have two side panels that unzip down the full length of the bag and open like wings. Open these panels and you have complete pass-through access every square inch of the main compartment.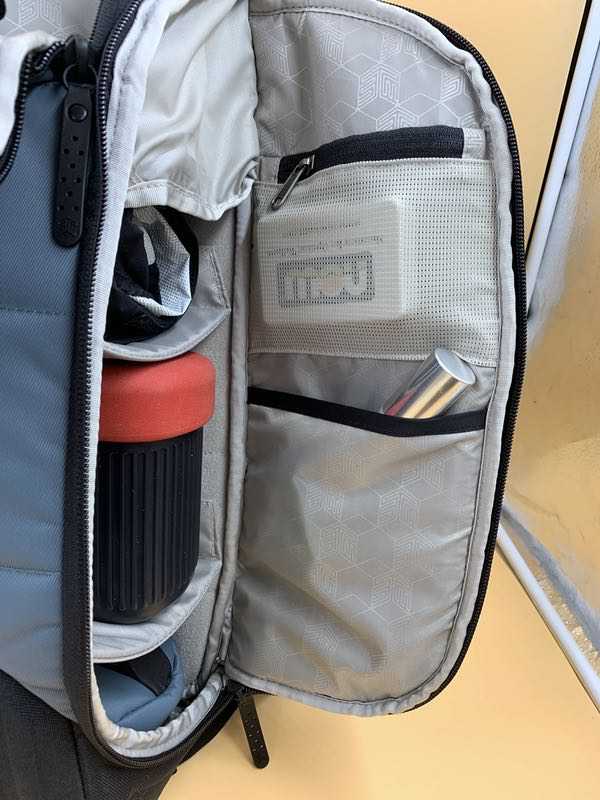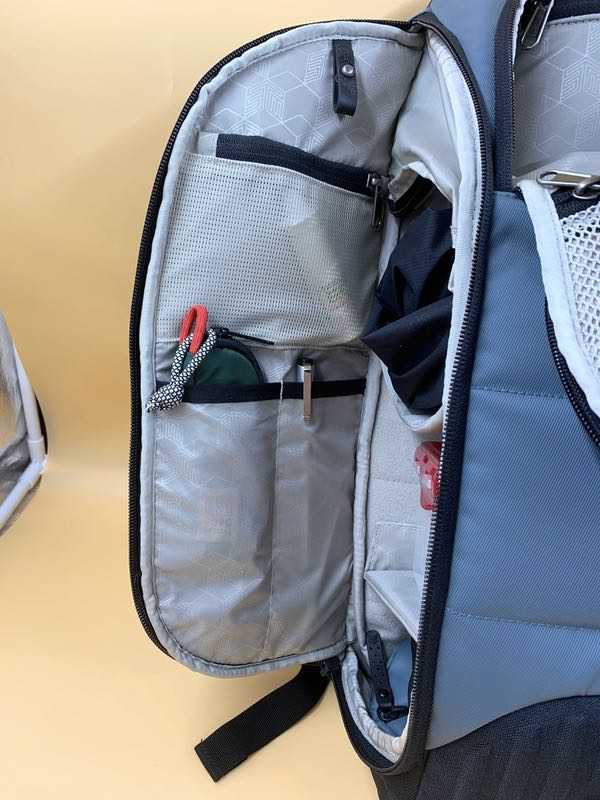 You'll also find two moveable/removable horizontal dividers that velcro to the front and back of the bag, allowing you to customize the main compartment into sub-compartments like a set of shelves.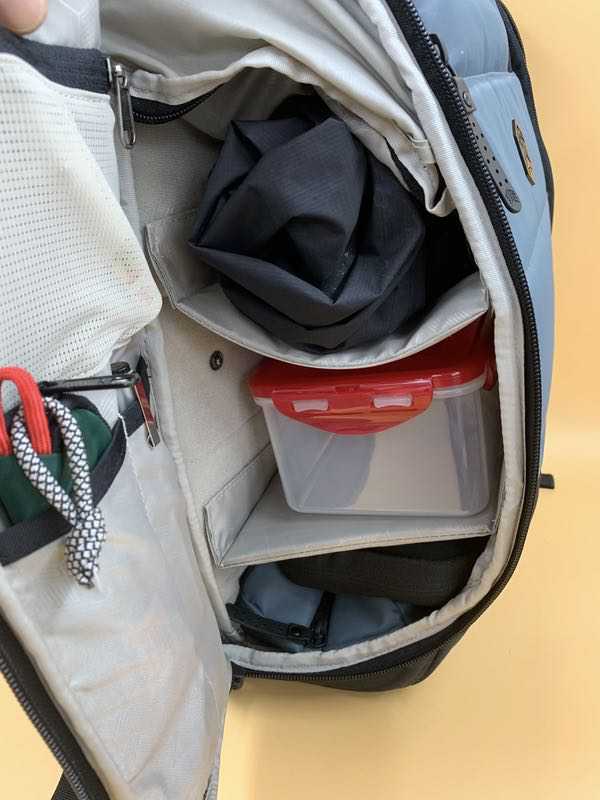 Organization spaces abound in this design. A zip on the front face of the bag opens up a fold out panel. There's a button that pops loose and it unfolds to reveal two mesh zipped pockets.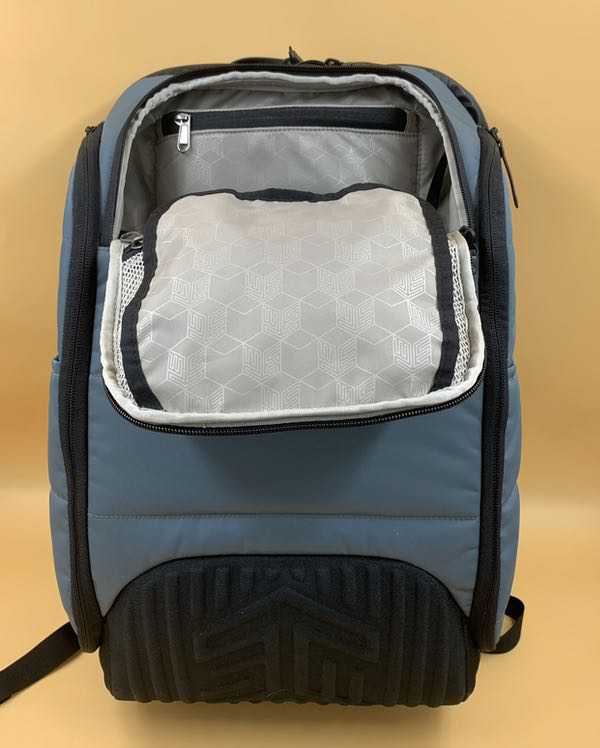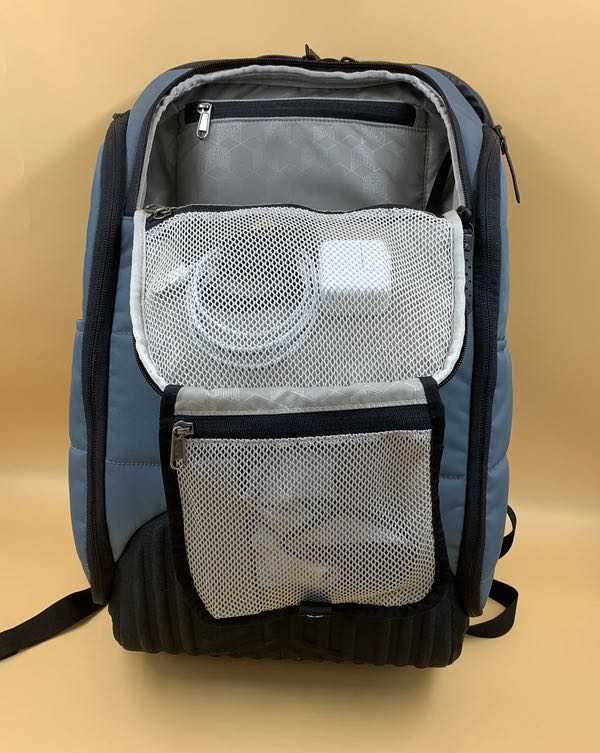 This compartment also includes another pocket on the back wall and a key leash. The open space remaining is plenty big enough for quick-grab stuff like your sunglasses, wallet, and snacks.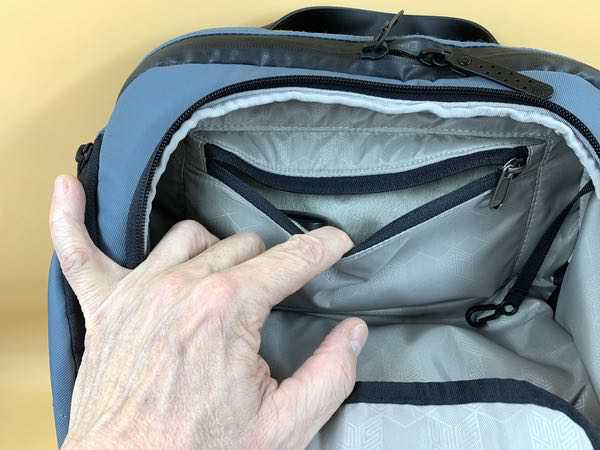 And here's the next tricky bit: you can unzip the floor of this space snap it to the back panel to create access to the main compartment. Now you have a traditional top-loading pack with that whole main compartment wide open for your gear. You could remove those shelves entirely for this if you're feeling it.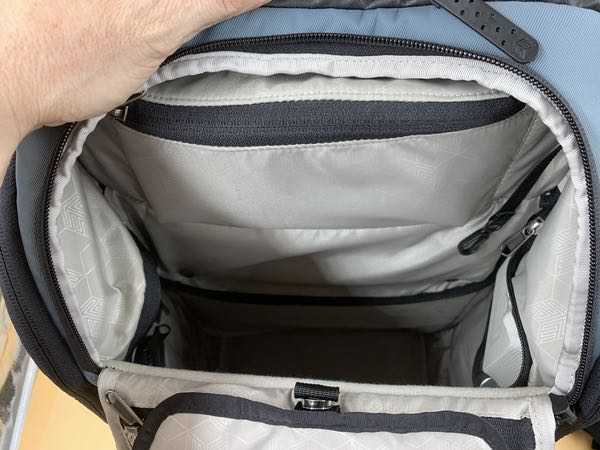 Not only do the side wing panels have pockets on the inside (see pics above), but they also have expandable water bottle/umbrella pockets on the outside. These pockets sit snug when not in use and unzip to take even my big ol' 28 ounce Yeti hydration bottle.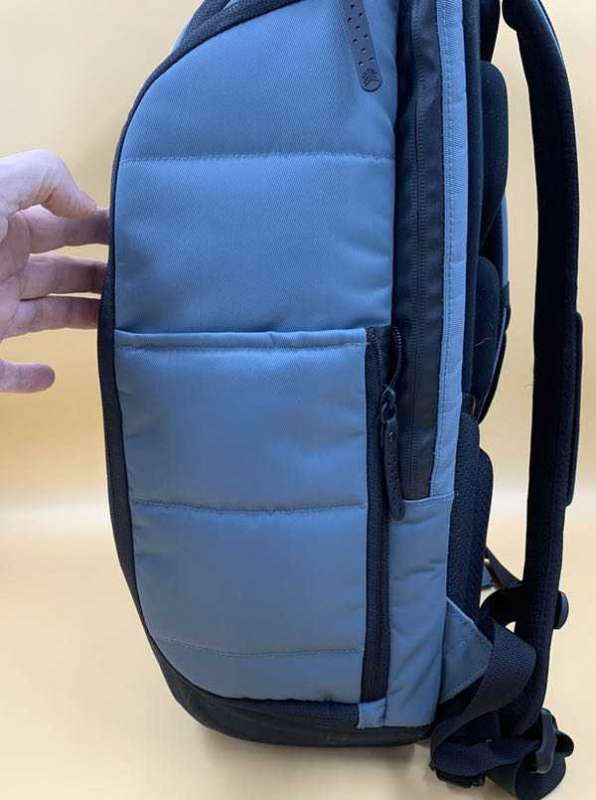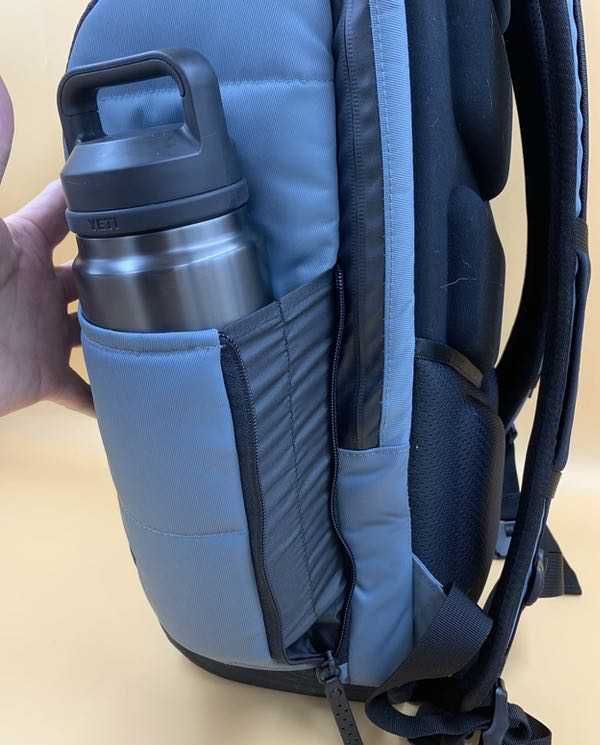 There's also a deep hidden pocket that unzips behind the top carry handle.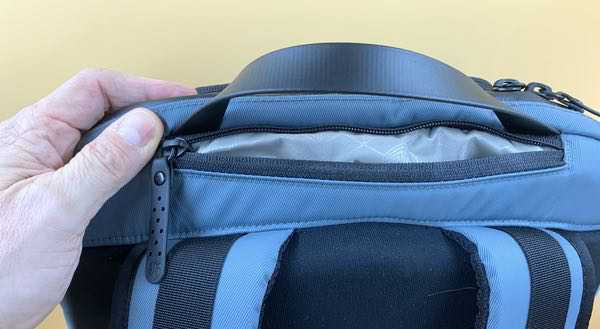 You'll get a well-rounded harness setup that includes low profile padded straps, a built-in sternum strap, and a pair of neoprene flexible loops for temporarily securing stuff (like your phone) when you need your hands free.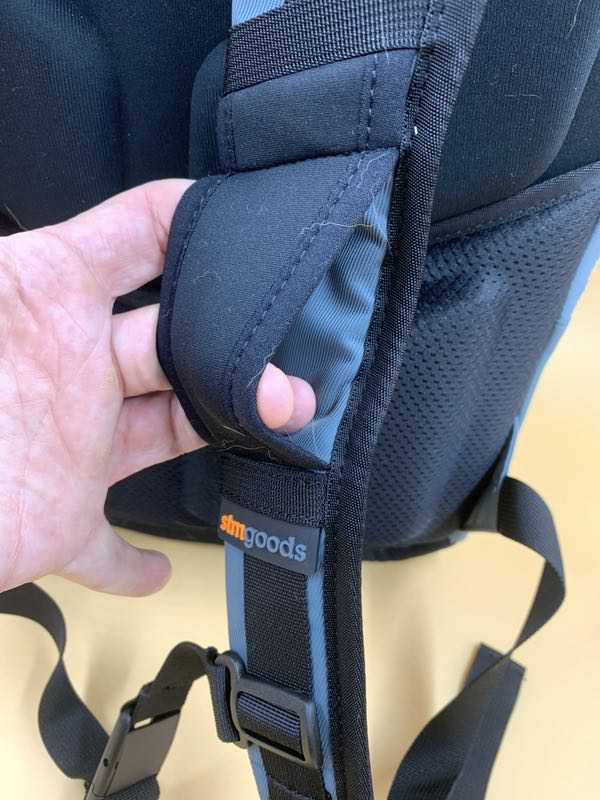 You also get an additional organizer pouch with your purchase. This bag-within-a-bag fits perfectly into the boot of the main compartment matches the external fabric choice, This bag is also padded, matching the build quality of the rest of the bag.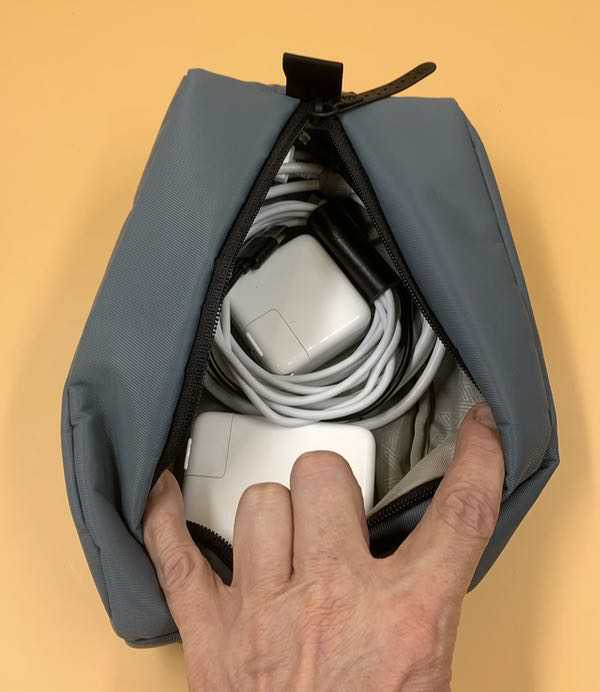 The overall build quality of the STM Goods Dux Backpack is outstanding. This bag is not light (3.92 pounds), nor is it cheap (retail price is about $250). But the construction, materials, and attention to finishing detail is well in line with the price. I can't find a single detail where they opted for flimsy fabrics, cheap hardware, or rough finishing. It's really, really good.
Performance
The STM Goods Dux Backpack is designed to be a mobile fortress for your gear. Impenetrable protection, organization for days, and a customizable interior make this beastie ready for all of your loadouts and missions. The carry system is surprisingly lean, yet still comfortable for commutes.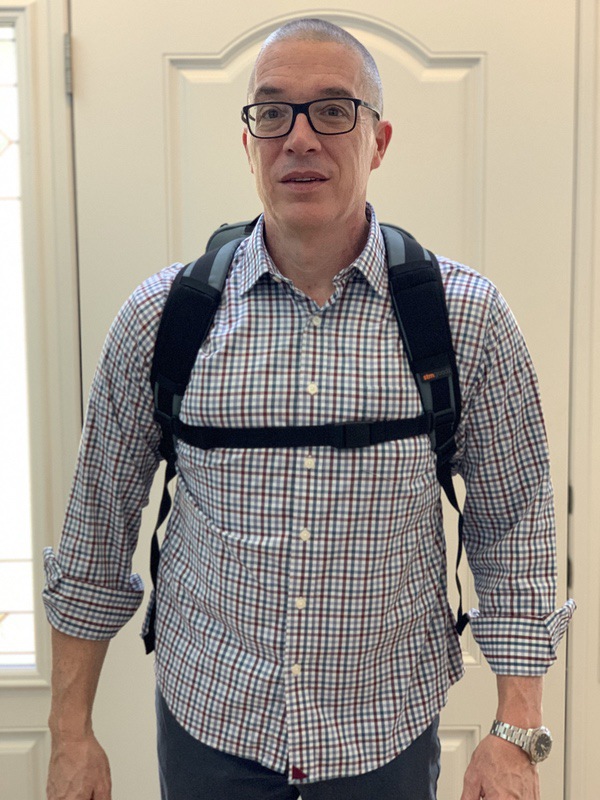 The protection this bag offers is exceptional. Every angle — top, bottom, sides interiors — is padded to protect your precious electronics. Water resistant fabrics, sealed external zips, and that thick rubberized boot add weather protection on top of the padding. I feel like I could use this thing as a punching bag and my gear will laugh at me.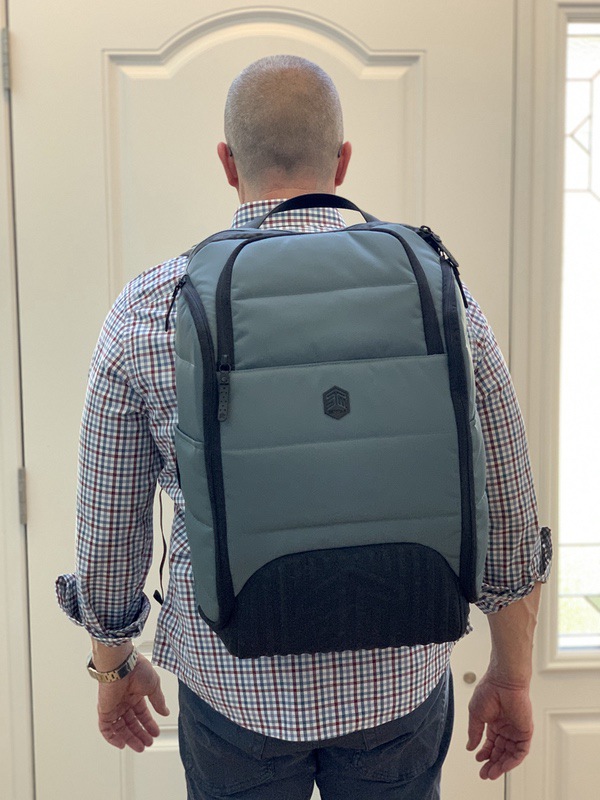 One of the really thoughtful aspects of the design is the "outisde-in" zone organization that it presents, which is especially useful for travel and long commutes. Your small organization pockets are all easily accessible on the inside of the side wings or through the top-entry compartment, allowing quick access to small stuff (keys, pens, headphones, snacks, sunglasses, medicines) without disturbing the main storage areas. You have a hidden pocket on the back panel for secure stuff like your wallet or passport. And that doesn't include the external pockets for hydration bottles or umbrellas.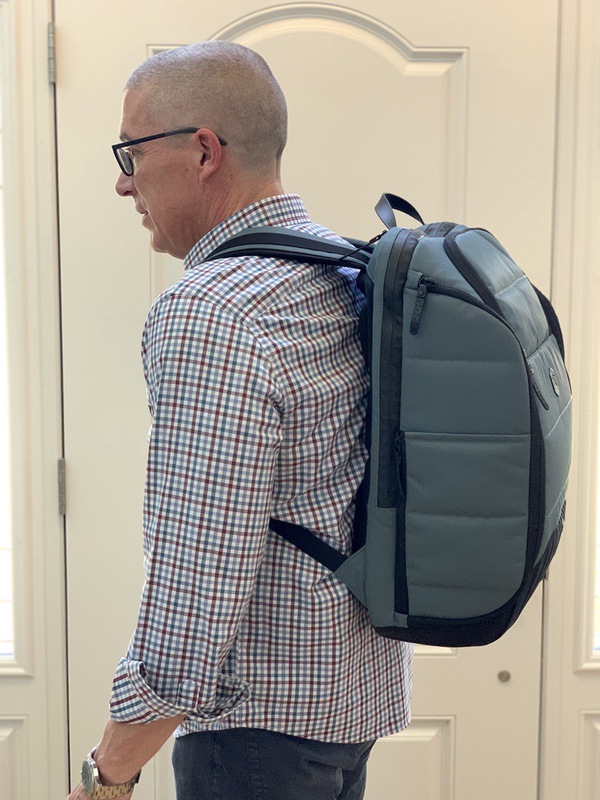 The laptop/tablet area carries through that theme by allowing easy access to the devices without disturbing anything else in the bag. Generous pockets in this space mean that you're not fighting to get your computing goodies in and out if you have to jump up and make a run for a train. And the laptop/tablet access is behind the carry rig, so you're not wrestling with shoulder straps to get to your goodies. I like that quite a bit.
The main compartment area is brilliant. No diving elbow-deep into the bag to fish for that thing you need. The removable shelving system allows you to subdivide that space into horizontal areas for sorting out all the things, using the wing panels to get to the things quickly.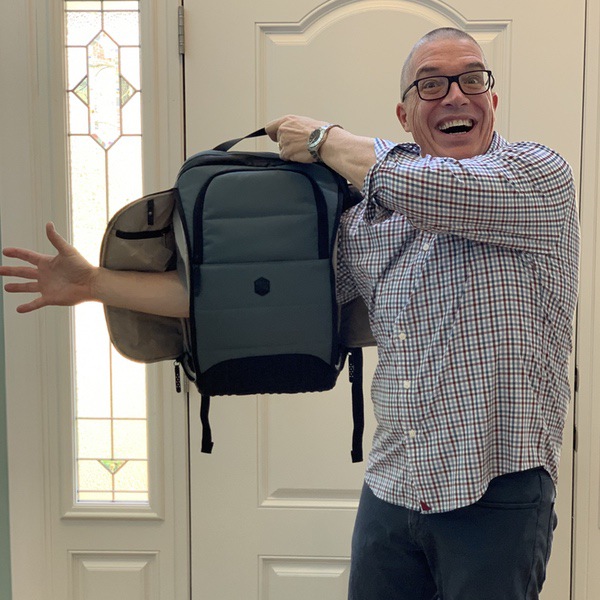 The structured framing of the bag gives you massive capacity. Here's all the stuff I have packed for my office load out. You're looking at my 16″ MacBook Pro, my iPad, my coffee gear, my lunch container, a rolled-up jacket, my 28 ounce Yeti, an umbrella, my Jabra headset, and all sorts of little stuff daily essentials with room for more.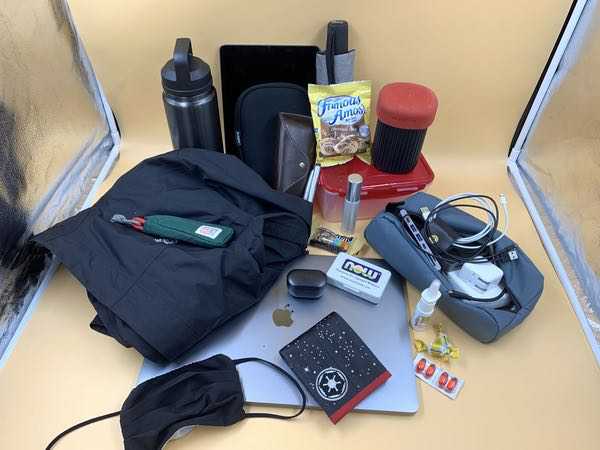 The included gear bag swallows up all of my cables, power bricks and adaptors. It's plenty big enough that I only need the one organizer bag for these goodies.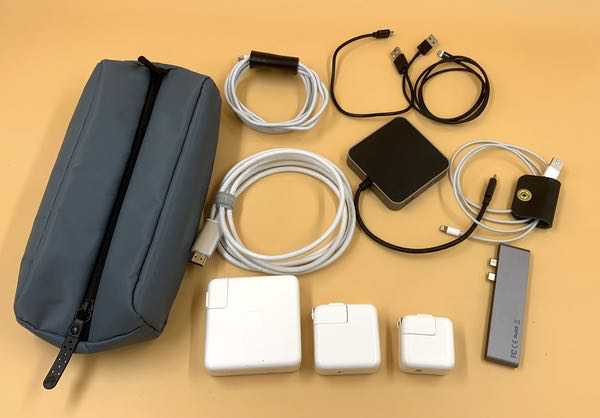 Organizer types will love the STM Goods Dux Backpack. Everything has a place, and you can get to every corner of the bag by just opening a single zip. That internal shelving system gives you all kinds of customization to meet your needs in addition to a bunch of well-designed pockets and pouches throughout the bag. 
Minimalists will probably not like this bag. It's big and beefy and really favors users who have a lot of stuff to carry. Size is the critical compromise here for all of that feature goodness.
What I like
Top-notch build materials
Professional look that's clean, despite the size
Outstanding pocket/compartment organization
The combination of side access shelving is brilliant for maximizing the main compartment
What needs to be improved
It's a big bag for big jobs, and won't work for minimalists
Final thoughts
The STM Goods Dux Backpack delivers a lot of great design thinking in an extremely usable, flexible, and durable package. I'm finding myself discovering little additional details every time I head out with this bag. It's a big bag, but the layout and design have been optimized for performance. If your commute requires transporting a lot of gear, you're going to love this bag.
Price: $249.95 Where to buy: STM Goods and Amazon Source: The sample of this product was provided by STM Goods.