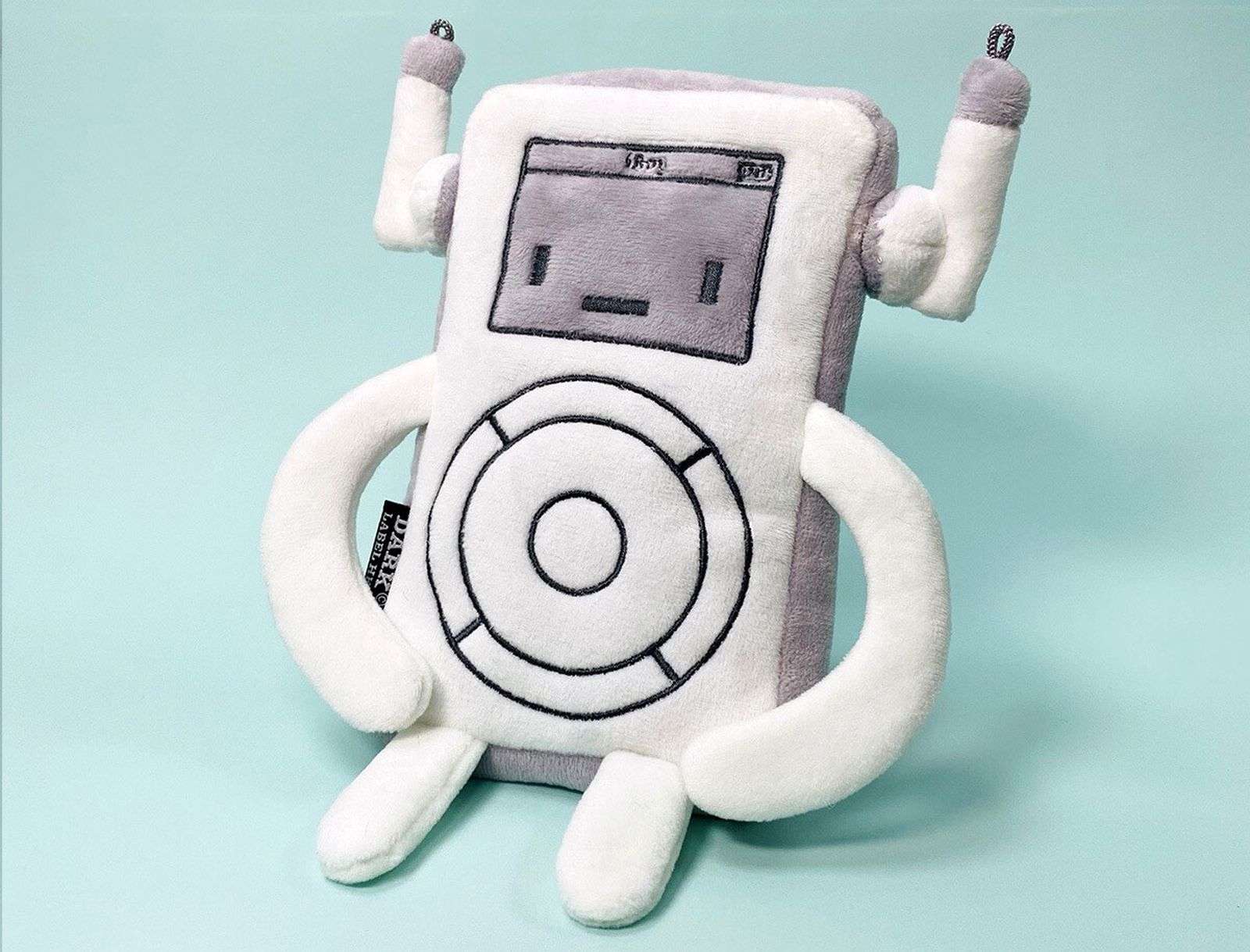 Classicbot designer Philip Lee has created a range of robot figurines, toys, plushes, and pins that are modeled after classic Apple devices like the Mac and the iPod.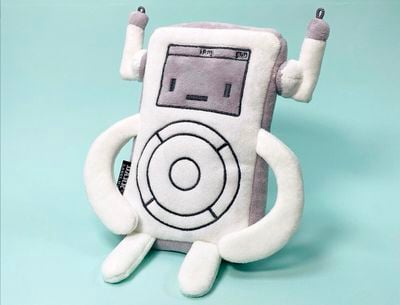 The latest Classicbot product is an updated version of the iBoy that's available in pouch form. Lee's previously released iBoy was made from plastic and modeled after the Classic iPod. The iBoy Phone Pouch looks similar to the original figurine, but in a larger plush format.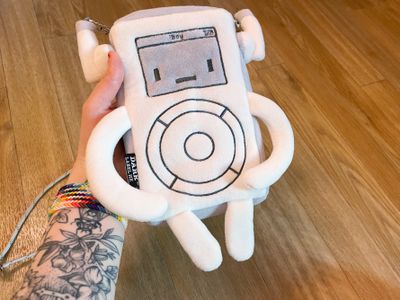 Because it uses an iPod design, the iBoy Phone Pouch is rectangular in shape with plush stuffed headphones for ears, long arms, and short legs. The stitching is top notch and this feels like a high-quality accessory, which I would expect at this price point.
There's an embroidered display at the front with a cute robot face and an embroidered click wheel, which is what gives the iBoy its recognizable iPod styling. All of the limbs and add-ons are well attached, and it feels like a durable little bag that's going to hold up well.

Size wise, the iBoy has a limited amount of space inside. It will fit an iPhone, including the iPhone 12 Pro Max in a case, but that's a snug fit and not much else is able to go inside. In fact, it's such a snug fit that I don't think this is something I'd want to use for my Pro Max unless I wasn't using a case, but it is a looser fit for the smaller iPhones. There is a soft plush lining inside that's going to prevent an ‌iPhone‌ (or whatever else is inside) from getting scratched up, and a plastic zipper at the top keeps the pouch closed up.

In terms of measurements, the iBoy Phone Pouch measures in at 7 inches by 4.25 inches by 1 inch, and there's an adjustable 34-inch strap that attaches to the earbud antennas for carrying it cross body or around the neck. It is not big enough to hold more than an ‌iPhone‌, a set of keys, and a few other small accessories. There's also a small pocket at the back with the iBoy branding, and this pocket is big enough to hold a chapstick, a pen, or something similarly small.
Given its small size and plush design, the iBoy Phone Pouch isn't something that's practical for most people for everyday use. I personally would not use this out and about on a day to day basis, but I might bring it along on an Apple-themed event like MacRumors' annual WWDC meetup.

I don't think most Apple enthusiasts who might be interested in this will want to wear it, but the strap can be removed and it can be placed on a desk as a little accessory that can also hold your odds and ends, and this is my preferred way to use it. The iBoy Pouch does not stand up on its own, but it can kind of sit leaned up against something on a shelf.

The front of the iBoy is white and the back is a light gray, so I'm concerned that if this was used as a bag, it could potentially get dirty, so it will need to be used with care. On a shelf as a trinket holder, it's much less prone to dirt stains. The iBoy Phone Pouch could also be used to hold cables and other small accessories in a bigger backpack for those who need more storage space or don't want to carry it like a purse.
Bottom Line
The iBoy Phone Pouch is undeniably adorable and will be appealing to some, but it's a niche product that isn't entirely practical and definitely something to be bought for the aesthetic rather than the function. It works as a pouch for small accessories, but I suspect most people on MacRumors who might be interested in it would prefer to use it as a desktop or shelf decoration, and luckily it also looks great as decor.
How to Buy
The iBoy Phone Pouch can be purchased from the Classicbot website for $49.
Top Stories
iPhone 13 Pro Reviews: ProMotion and Longer Battery Life Highlight an Iterative Refresh
Tuesday September 21, 2021 6:30 am PDT by Joe Rossignol
iPhone 13 Pro and iPhone 13 Pro Max will begin arriving to customers and launch in stores this Friday, September 24, and ahead of time, reviews of the devices have now been shared by several tech websites and YouTube channels. Image Credit: The Verge Key features across the iPhone 13 lineup include a faster A15 Bionic chip, camera improvements, longer battery life, and a smaller notch. The...
Review: 2022 Acura MDX Adds Wireless CarPlay to a Touchpad-Driven Infotainment System
Monday September 13, 2021 12:33 pm PDT by Eric Slivka
The Acura MDX is Honda's luxury-brand three-row SUV, and with the recent launch of the 2022 model, the MDX now supports wireless CarPlay. The MDX is Acura's first vehicle with wireless CarPlay, and I recently had a chance to check out the updated model and some of its new features. The MDX starts at $47,200, but my test vehicle was equipped Acura's Super Handling All-Wheel Drive, Technology...
9th-Generation iPad Reviews: An Even Better Value With More Storage and a Better Front Camera
Wednesday September 22, 2021 9:09 am PDT by Eric Slivka
In addition to the sixth-generation iPad mini, the ninth-generation iPad also saw its review embargo lift today, with reviewers generally feeling that the iterative update hits most of the right notes in terms of prioritizing upgrades to storage, performance, and the front camera. Photo via CNET As an overall take, CNET's Scott Stein argues that the "good enough" entry-level iPad actually...
Review: 2022 Jeep Wagoneer Offers Wireless CarPlay and Up to Nine Screens
Tuesday September 7, 2021 11:52 am PDT by Eric Slivka
One of the splashier car introductions for this year is the relaunch of the iconic Jeep Wagoneer brand as an all-new full-size SUV to compete against the likes of the Cadillac Escalade and Lincoln Navigator. The new 2022 Jeep Wagoneer is also available as a Grand Wagoneer, but rather than being a larger version of an already large SUV, the "Grand" designation is used to represent higher trim...
iPad Mini 6 Reviews: Impressive Upgrade Brings iPad Air Features to Smaller Size
Wednesday September 22, 2021 6:23 am PDT by Joe Rossignol
The sixth-generation iPad mini will begin arriving to customers and launch in stores this Friday, September 24, and ahead of time, reviews of the device have now been shared by several tech websites and YouTube channels. We've already rounded up video reviews of the new iPad mini, and we've shared some highlights from additional reviews below. The consensus among reviews is that the...
Review: Grid Studio Turns Apple's History Into Beautiful Home Decoration
Friday August 20, 2021 5:00 am PDT by Sami Fathi
Apple fans tend to accumulate old products in their homes, likely on a shelf or in a drawer collecting dust. Rather than letting Apple's history become junk items for dust collection, Grid Studio aims to turn them into artistic wall decoration. Grid Studio, whose tagline is "Every classic deserves to be framed," takes Apple products and breaks them down component-by-component, placing them...
Review: Anker's PowerWave Go 3-in-1 Stand Charges Your Apple Devices at Home and on the Go
Monday July 19, 2021 5:00 am PDT by Eric Slivka
Back at CES, Anker announced the PowerWave Go 3-in-1 Stand, a docking station for iPhone, Apple Watch, and AirPods that also includes a removable power bank to charge your devices on the go, and after a few months to finalize the product, it's launching today. I've had a few days to try out the PowerWave Go, and I can say that it's a clever gadget that comes in handy for those steeped in the ...
Review: BlackBrook's AirPods Max Leather Cases Give Protection in a Practical Design
Based in Florida, BlackBrook Case makes a range of high-quality leather goods, including cases for the iPhone, AirPods, iPad, and AirTag, as well as Apple Watch bands. One of BlackBrook's latest products is a case solution for AirPods Max, which works both with and without Apple's own Smart Case and seeks to address some of the criticisms that have been leveled at protecting Apple's over-ear...