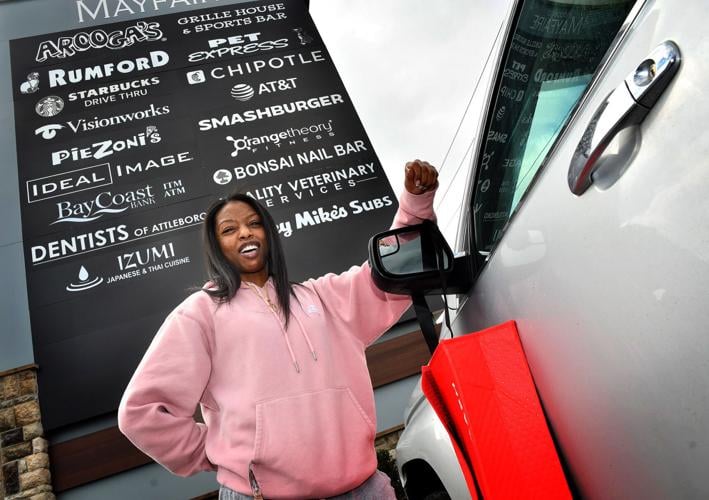 Attleboro resident Apryl Scott, who has been driving for app-based companies such as Lyft, Uber and now DoorDash for nearly seven years, says this kind of side gig is still worth doing despite the surge in gasoline prices.
But, she acknowledges the cost of gas is making it tougher, adding company rules seem to constantly be in flux.
Thank you for reading!
Please purchase a subscription to read our premium content. If you have a subscription, please log in or sign up for an account on our website to continue.
Earlier this week, DoorDash, a delivery company, said it will give drivers 10% cash back when they buy gas using DasherDirect, the company's debit card designed for drivers. Drivers will get the cash back for any gas purchase, whether or not they are completing deliveries at the time.
The San Francisco-based company said it will also start paying weekly bonuses for drivers who drive the most miles. Drivers who travel 225 miles will earn an extra $15, for example. But Scott pointed out that the company is only going to be offering those bonuses until April 30.
Scott, 35, a full-time student, said the supplement is "not not a help, it's nice," but while, "they are fair for what we do, they could be better."
Driving for DoorDash helps support her and her daughter.
"This is not a super busy city," Scott said. "I can't make an extravagant living."
Scott joins most other area residents, employees and businesses being impacted by the skyrocketing gas prices brought on primarily by the horrific war in Ukraine.
Gas prices usually start rising around Memorial Day as driving picks up and demand for gasoline escalates with warmer weather.
This year, of course, is a completely different story, with costs soaring to record levels of well over $4 a gallon months before they typically start rising.
And it's taking place as more workers hit the roads to commute to work after spending months working from home because of the pandemic. That increased demand — also from the economy expanding as coronavirus cases plummet — is also driving up gas prices.
Joseph Stewart of Wrentham has gone electric.
"We recently sold our 20-plus-year-old Toyota 4Runner and bought a Tesla, which I charge at home," Stewart said.
It's early for more accurate forecasts, but the trend toward electric vehicles has been picking up steam, and longer term, the popularity of larger vehicles such as SUVs may wane and bring a resurgence of smaller vehicles, analysts say.
"We've known for years that burning gas hurts all of us, that we need to eliminate our use of fossil fuels," Stewart said. "Knowing we need to do something and actually doing it are two different things. But, we can all adapt."
In fact, Stewart said he is considering changing over to more environmentally-friendly heating for his home.
"We've been burning oil for 30 years to heat our home and the furnace and water heater need to be replaced. I'm hoping we can go the heat pump route," Stewart said. "Assuming we can, we'll see about getting solar on the roof to cover our heating and transportation energy needs. From a long-term investment perspective, coal/oil/gas is a bad bet."
The spiking gas prices are even affecting younger drivers and students, many who are spending a greater portion of what limited dollars they have to fuel up at the gas pumps.
"I have talked to a few of my friends and for the most part our driving habits haven't changed," said Caroline Butler, a senior at Attleboro High School. "We all still have to drive to school, work, home, and while it is significantly more expensive to buy gas, we don't have another alternative available to us."
Paul Jacques of Rehoboth is an Attleboro firefighter and union president as well as a representative for Massachusetts firefighters at the state level.
"As firefighters we are on the front lines of the pandemic and haven't stopped working throughout. The rising gasoline and home heating oil prices are unsustainable for blue-collar workers," Jacques said. "Such increases have a domino effect on the costs of other essentials like food and utilities. These difficult times are affecting everyone's wallet resulting in having to make tough financial decisions for working families everywhere."
Costs for businesses
Businesses say they can only pass so much of the extra fuel costs onto customers, if at all.
Reed Webster of Plainville runs Spotsmith Carpet Cleaning, a small business based in town that he says "exists on gasoline."
The carpet and floor cleaning business serves residential and commercial customers across Eastern Massachusetts and Rhode Island.
"We use our trucks not just to commute to jobs, but to run the equipment mounted in the van to do the cleanings," Webster said. "The trucks run nonstop all day."
Gas costs are typically 7% of the business's annual revenue.
"You can imagine how doubling the cost to 14% of revenue or more hits a small three-person family business hard," Webster said.
The higher gas prices just add to inflation that has risen to its highest level in four decades.
"Spotsmith, like every business, is affected by the logistics crisis brought on by the pandemic and subsequent labor shortages. Almost all of the cleaning agents we use have increased in price dramatically, some also doubling," Webster said. "As a small business, we understand quite clearly the concept of competing dollars. Our customers are faced with similar choices when inflation rises so rapidly."
He said when gas prices soared to $4 several years ago his customers were forced to "make hard choices on how to spend home maintenance and discretionary monies."
"We lost a large segment of our business because customers were forced to pay rising, unanticipated gasoline costs and other price increases," Webster said. "We can't simply increase our prices and risk forcing our customers to put off cleaning their carpets. We can't risk turning them off with gasoline surcharges or other nuisance charges to recoup the higher prices."
Rideshare companies are implementing surcharges to help frustrated drivers cover rising pump prices.
Uber this week instituted a gas surcharge between 45 to 55 cents for the next 60 days. The company said the fees will go to drivers, who are in charge of filling up their own tanks. Some had threatened to quit.
Uber's surcharge also applies to Uber Eats, an online food ordering and delivery service. Customers should expect to see an additional 35- to 45-cent surcharge added to their order.
Uber is also encouraging its drivers to use electric cars. Drivers can make as much as $4,000 more per year switching to an electric vehicle.
School bus companies are bearing increased fuel costs, including Holmes Transportation in Norfolk which serves the King Philip towns.
"Per our contract with Holmes, we can consider a fuel escalation/de-escalation clause annually on Jan. 15 with specific provisions," Norfolk Superintendent Ingrid Allardi said. "No action was taken this year so there will be no impact on the schools this spring of increasing gas prices."
Some trash haulers, including Waste Management that serves several communities in the Attleboro area, including Attleboro and North Attleboro, are passing costs on to customers.
"Like many other companies, particularly those engaged in hauling and transportation services, WM implemented a fuel surcharge as part of its customer billing a number of years ago," company representative Garrett Trierweiler said. "WM's fuel surcharge is tied directly to the nationally-reported average price of diesel fuel, and as the price of fuel fluctuates up or down over time, customer billings will reflect these increases or decreases."
Area chambers of commerce are fielding a lot of feedback from businesses about gas prices.
"My members are very concerned. They tell me everything was more expensive through the pandemic and now with the fuel costs rising almost daily, their suppliers are adding fuel surcharges to a lot of deliveries and raising their prices because they have to absorb fuel costs," said Jack Lank, president of the United Regional Chamber of Commerce, which serves the Attleboro area.
Lank said some businesses such as restaurants operate on a very small profit margin.
"Now with the high cost of food and additional fuel surcharges, they don't have a choice. If they want to stay in business, they have to pass on the cost to their customers," Lank said. "I believe we will see a steady increase in almost all consumer products because the manufacturers of those products are paying higher fuel costs.
"The cost of everything rose during COVID. Between supply chain issues and lack of materials, supplies and inventory, all sectors of business from manufacturing to retail have been given a double whammy" from rising energy costs, Lank said.
Action on prices
State and national politicians and candidates running for office have called for action to reduce gas prices, including temporarily reducing or eliminating gas taxes. Massachusetts legislators have voted to keep the 24-cent state tax for now.
Including all state and federal taxes and fees, Massachusetts drivers pay 44.9 cents per gallon in gasoline taxes, according to the American Petroleum Institute.
Some state and federal officials are requesting and planning investigations of price gouging.
AAA and other gas authorities say there is only so much that can be done as gas prices are tied to the global oil market which fluctuates based on not only supply and demand but investor forecasts and other factors. Oil prices, they point out, account for roughly half the price of a gallon of gas.
"Russia's invasion and the responding escalating series of financial sanctions by the U.S. and its allies have given the global oil market the jitters," Mary Maguire of AAA Northeast said. "Like the U.S. stock market, the oil market responds poorly to volatility. It's an explosive situation, and a grim reminder that events on the far side of the globe can have a ripple effect for American consumers."
Maguire, who lives in Norton, knows the impact it's having on local residents.
"Very painful for many people, especially those living on a tight budget," Maguire said. "In addition, many people are headed back to the office, and their commuting costs will be much higher."
The average driver who spent $42 to fill a tank last year is now spending $65, added Maguire.
AAA recently conducted a survey and found 59% of drivers are changing their driving habits.
"They are changing their driving behaviors — doing everything from opting for cheaper regular gasoline to consolidating errands and trips, and shopping around for the most competitive retailers and cheapest prices," Maguire said.
Younger drivers, 18 to 34 year old, are more inclined to car pool, the survey found.
"We always urge consumers to treat their car as a bus making stops along the way, as opposed to a taxi or ride share traveling to every individual destination," Maguire said.
AAA's gas saving tips "can make a real difference for those who are looking to stretch a tank of gas as far as possible," Maguire said.
Oil prices last week had shot up to $130 a barrel before dropping to $94 the middle of this week. They are now hovering around $100.
"The drop in gas demand is contributing to price decreases, but the recent reversal in oil prices is creating greater downward pressure on pump prices," AAA said. "If the oil price continues to decline, pump prices will likely follow suit."
Gasoline prices have eased the past week. After rising a record 54 cents last week and 19 cents early this week in Massachusetts, with a gallon of regular hitting a record $4.35 Monday, the cost Friday had dipped 6 cents to $4.29, AAA Northeast found. That is still about 80 cents higher than a month ago and around $1.50 higher than a year ago.
"Fortunately, pump prices are slowly trending downward," Maguire said.
While many Americans may adapt their daily habits to make up for higher gas prices, it likely won't have as much of an impact on summer travel. AAA's survey found 52% of Americans have plans to take a vacation this summer. Of those, 42% said they would not consider changing their travel plans regardless of the price of gas.
The last time gas prices hit over $4 was in July 2008 as the country was on the heels of a major recession, unemployment was rising and the mortgage crisis was a few months away. By December, though, costs had dropped well below $2 a gallon.
Staff Writer Tom Reilly contributed to this story.