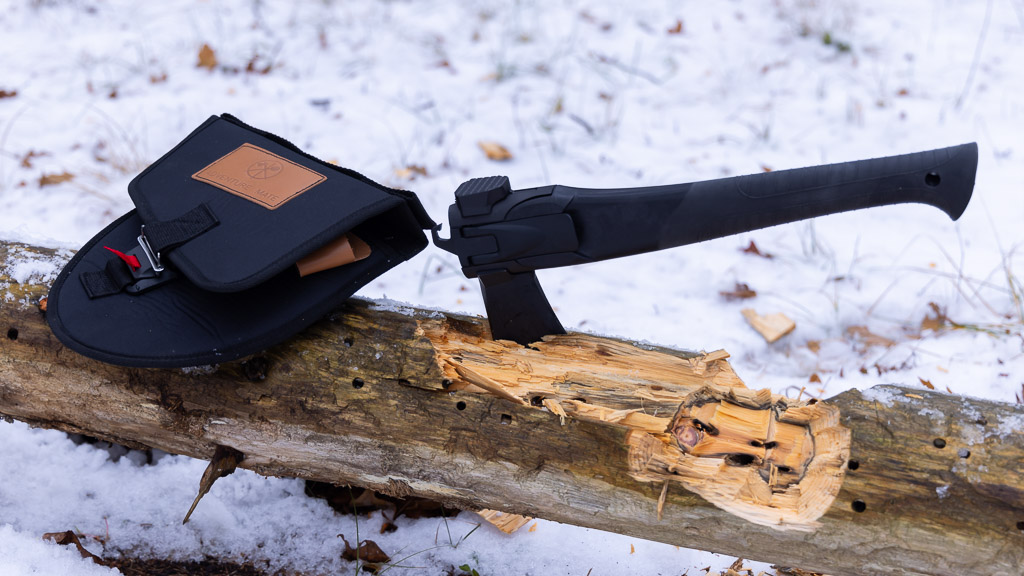 We use affiliate links. If you buy something through the links on this page, we may earn a commission at no cost to you. Learn more.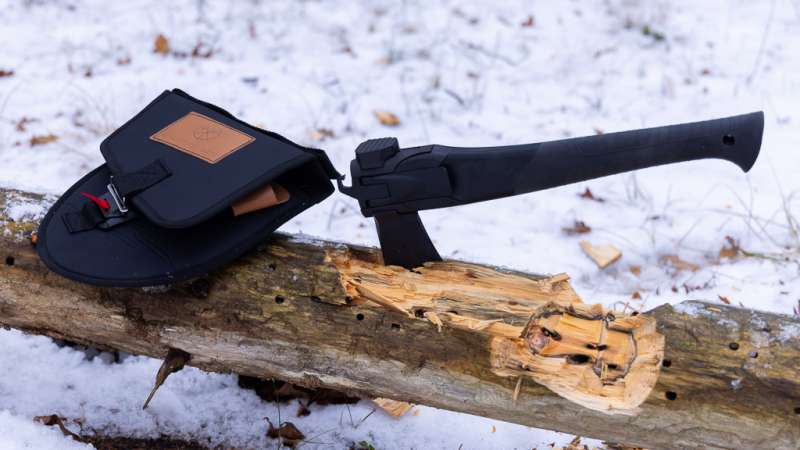 REVIEW – One thing I'm fond of is multi-tools . If I have a tool in my vehicle, backpack, or camping box, I always prefer that it have more than one function if possible. The Adventure Mate 5-in-1 multi-tool is just such a multi-purpose tool, but let's see how it performs.
What is it?
The Adventure Mate 5-in-1 multi-tool is an axe, shovel, saw, hammer, and hook tool that is convenient and portable.
What's in the box?
    Axe Saw Hammer Hook attachment piece

    Shovel attachment piece

    Handle

    Leather axe sheath

    Holster

    Spare saw blade bolts

    5 trees planted + CO2 emissions neutral token

    Instruction guide

    AM-V2 Sticker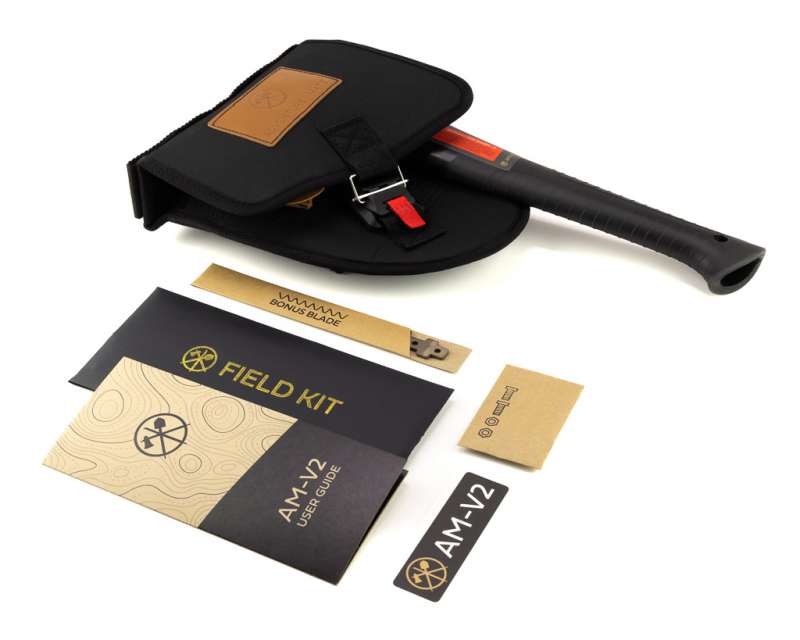 Hardware specs
Size Handle : 16 in axe head : 8 in saw blade : 6.5 in shovel : 7 in x 10 in holster : 9 in x 10.5 in
Weight Handle: 1.1lbs Axe head: 1.5lbs Shovel: 1.4lbs Holster: 0.8lbs Total tool weight: 4.8lbs
Design and features
I was impressed with the Adventure Mate 5-in-1 multi-tool from the minute I opened the box. The initial impression of quality has not worn off. There have been no corners cut with this product, from the tool itself to the leather sheath, to the quality magnetic buckle!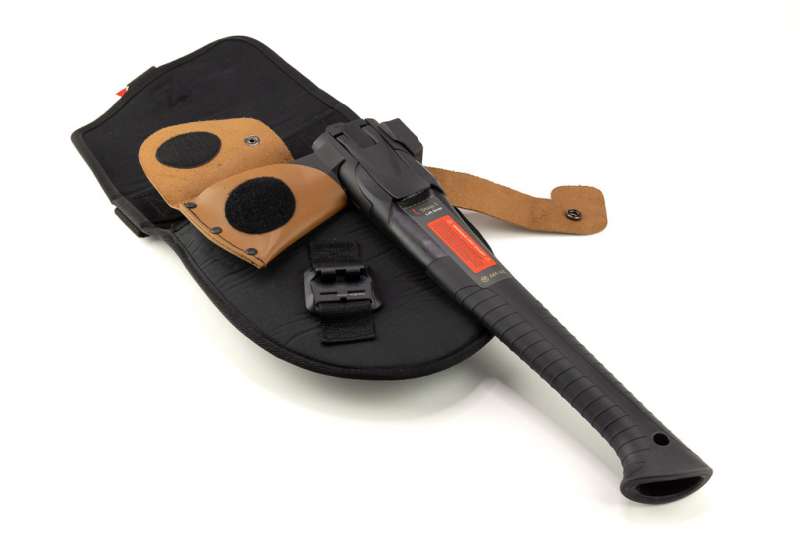 Of course, the first thing I did was pull it out of the holster to check out the axe. The axe is made from high carbon steel for extreme durability and edge retention. The hand-sharpened blade is extremely sharp right out of the box – and by extremely, I mean scary sharp – shave the hair off your arm sharp.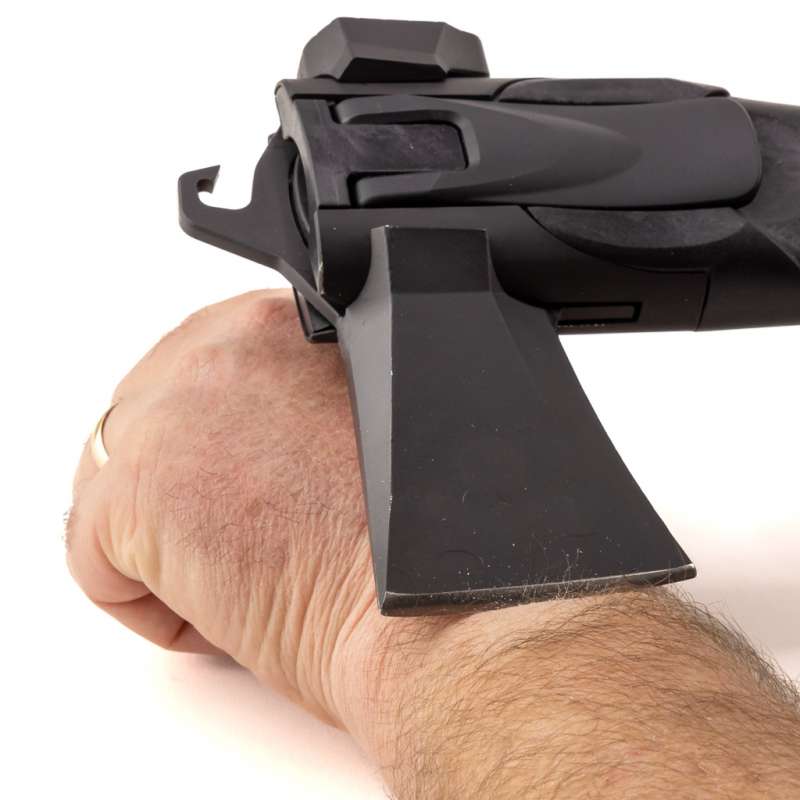 The soft leather axe sheath is functional but not bulky when you take it off and put it in your pocket. The snaps are easy to snap and unsnap. The hole in the handle is a nice touch if you want to tether it. The rubber-like coating on the handle provides a very lovely gripping action. I also like the exaggerated heel on the handle, and it really provides a positive grip on the handle.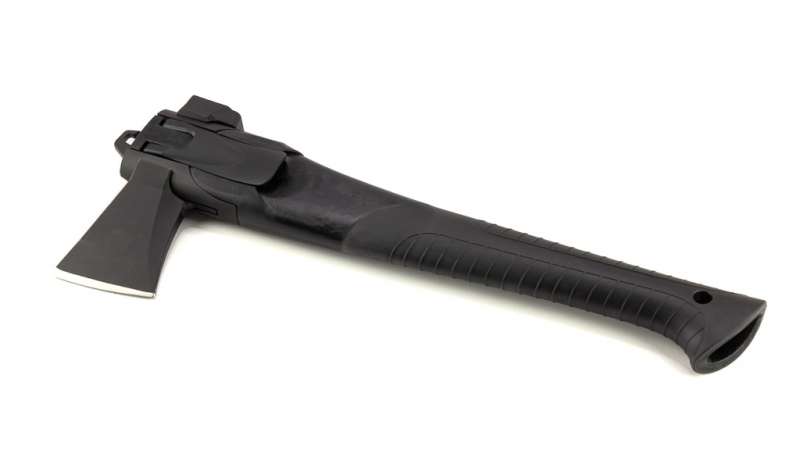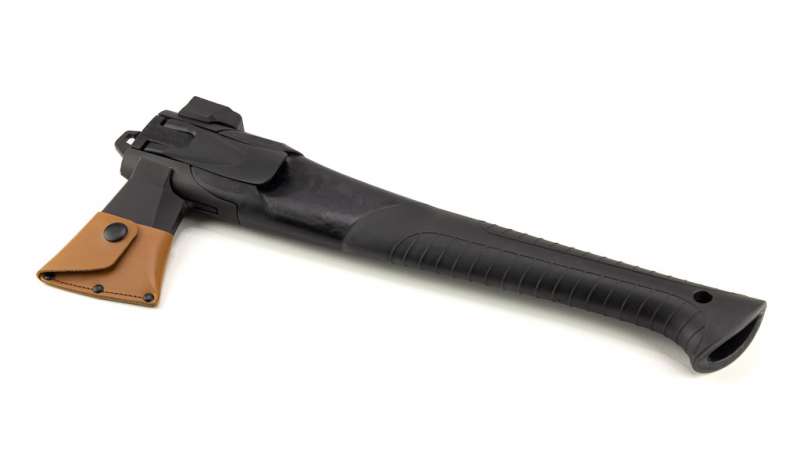 The saw features a unique 6.5″ (16cm) kerfed blade, making it great for pruning bushes and sawing through logs without getting jammed. I've had blades similar to this on my Leatherman, and my hunting saw, and they cut extremely well, perhaps the best of any hand-powered saw. The bonus blade and mounting bolts provided in the box is really nice because no matter how well built a saw is, there's always the chance of bending a blade.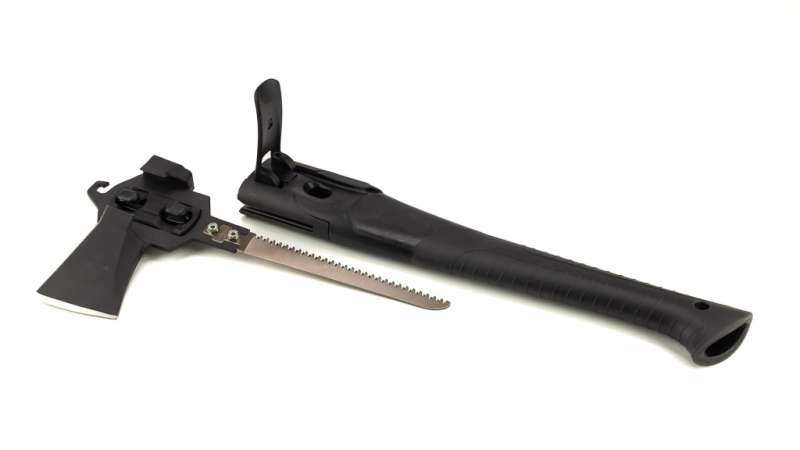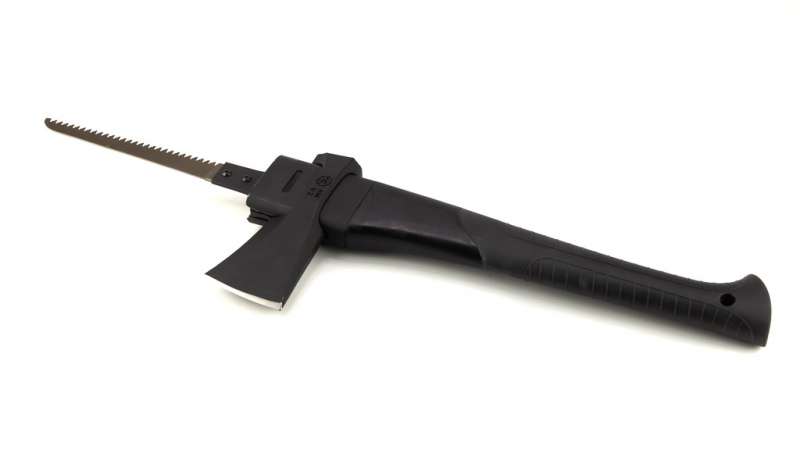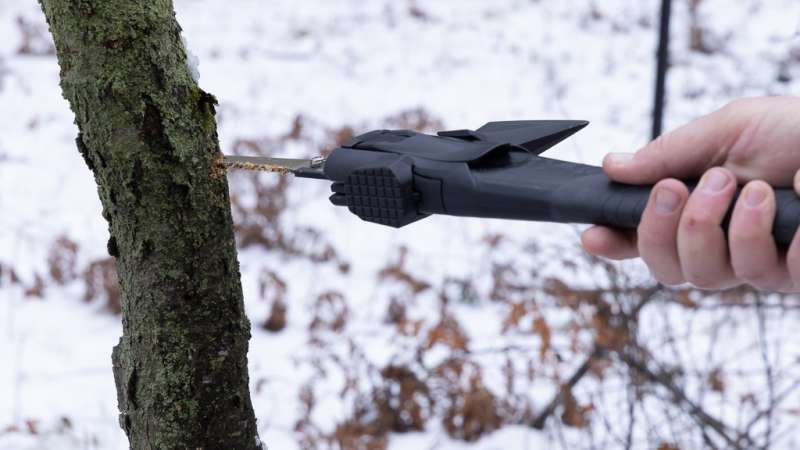 The shovel has built-in footpegs and a sharpened digging edge. Although I don't use small shovels like this often, it is pretty nice to have one when camping or for emergencies. The sharpened digging edge isn't knife sharp, but it is much sharper than most shovels.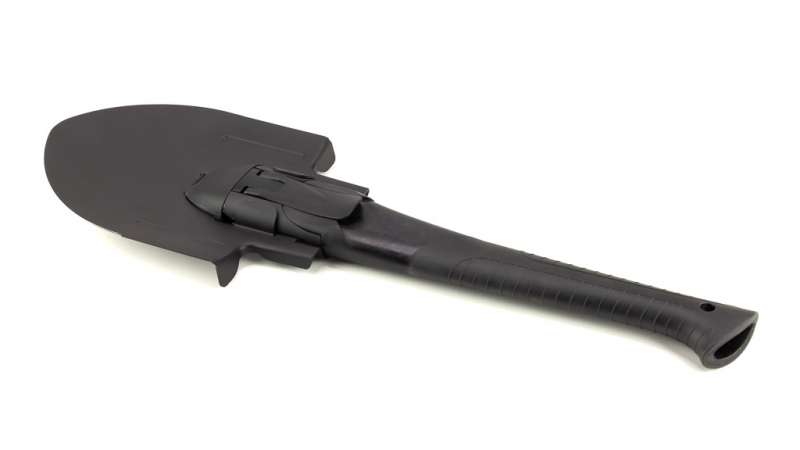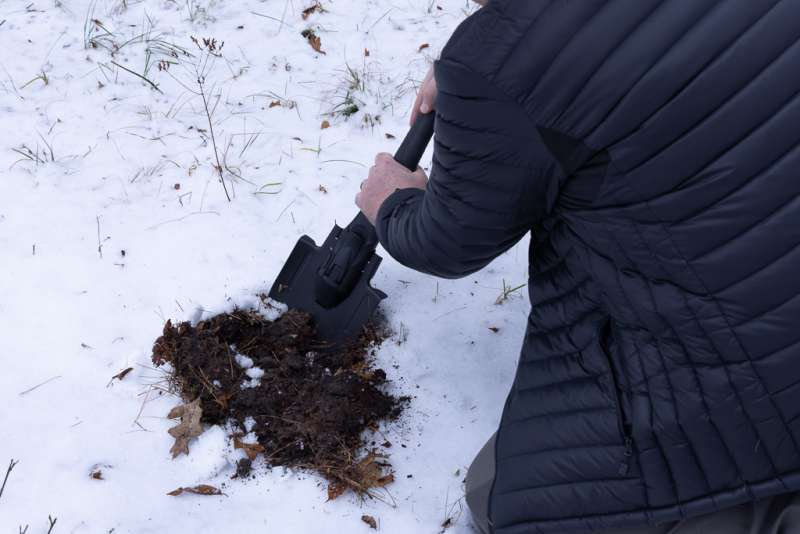 A hammer is indispensable for many tasks, but especially a campsite. The heavy-duty milled face is ideal for pounding large ground stakes and hammering in tent pegs. I particularly liked the milled (waffle-head) face for better grip. The hammer face is also larger than a standard hammer, making it perfect for those not-so-skilled with hitting things.
The hook is optimized to easily catch wire pot handles safely from a distance, pull out tent pegs, and even doubles as a bottle opener. I can see using it mainly to lift hot pots off a campfire or pull out tent pegs. The hook is also pointing in the correct direction to not hook on wood while using the axe.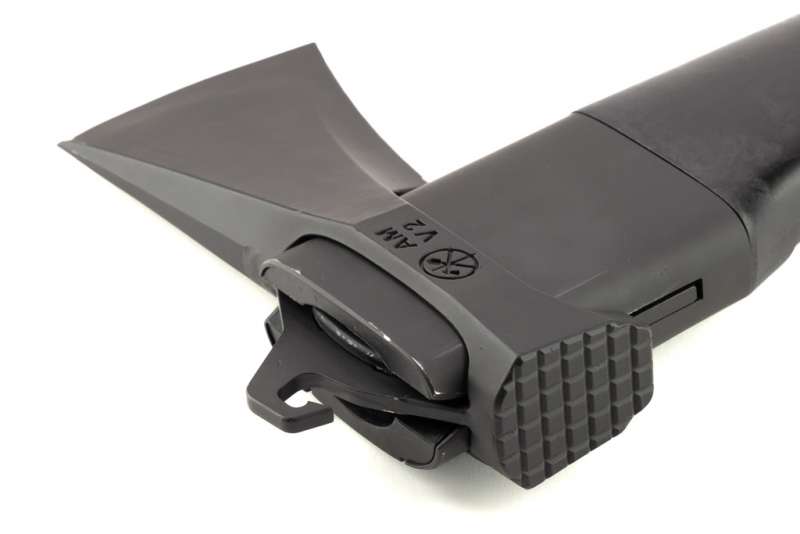 Perhaps one of the best things I like is that the Adventure Mate AM-V2 is designed, welded, cerakoted, and assembled in Virginia Beach, USA. The Adventure Mate AM-V2 is available in Stealth Black and Desert Sand and comes with a lifetime warranty (except for bending the saw blade).
The holster has a magnetic buckle that is easy to unhook with a simple pull of the red tab. It also has belt loops on the back and several hoop points along the top that you could hook a shoulder strap to (not provided).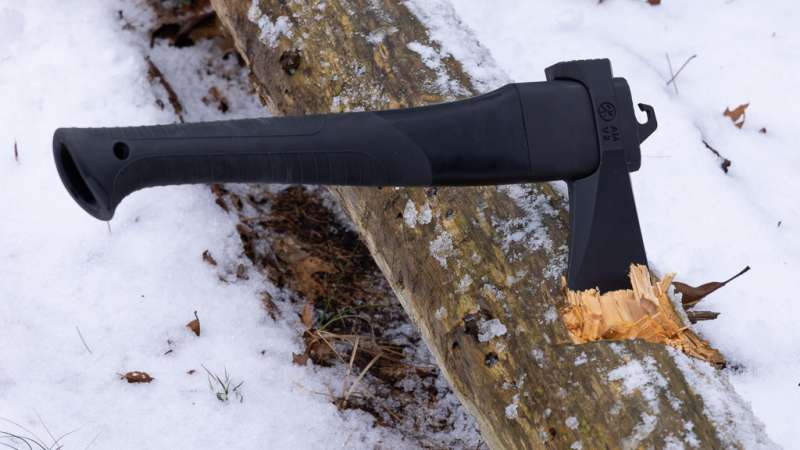 What I like
Portable and sturdy
Very sharp axe and saw
Very nice grip on handle
Leather axe sheath included in addition to the holster
Lifetime warranty
What I'd change
I would prefer that the axe fit more rigidly in the holster
Final thoughts
I absolutely loved the Adventure Mate 5-in-1 multi-tool. It was extremely sharp and durable. It is a very functional tool that feels like it will last a lifetime.
Price: $285.00 Where to buy: Adventure Mate and Amazon Source: The sample of this product was provided by Adventure Mate.